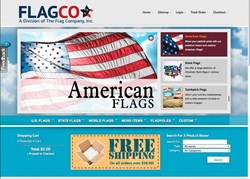 In most cases those big box purchases can be more trouble than they are worth.
Atlanta, GA (PRWEB) October 17, 2013
The Flag Company, Inc. is pleased with their latest sales figures showing that buyers seek product quality, personal service, or free and same day shipping options they offer through the company's online and mobile app services for flags and related items compared to only low prices available at some "big box" chain store websites.
While low prices may be attractive, buyers get what they pay for and many of the big box stores will only ship purchases to one of their stores for in-store pickup, The Flag Company, Inc., ships directly to a customer's door, and in most cases an order placed by 2 p.m., Eastern Standard Time (EST), will leave the warehouse that same day. Free shipping is also available for many items and in other cases with orders of $75 and up.
The Flag Company, Inc. also makes custom-made orders easy by simply uploading the desired artwork directly through the website. The new Flagco mobile app incorporates all these advantages combined with a very easy checkout process: no account sign-ups are required and all major credit cards are accepted.
"Our regular customers understand that our superior service is a huge benefit, rather than just purchasing the first thing they find online from a big box store," says Mike Lawrence, Vice President of The Flag Company, Inc. "In most cases those big box purchases can be more trouble than they are worth. Customers who prefer to call our 800 phone number speak with knowledgeable and experienced customer service representatives."
With its network of flag and flag products companies, over 8,000 products are available online through Flagco.com and its divisions that offer complete lines of world, state, and international flags; flagpoles and flagpole parts and hardware; toothpick flags; fluorescent light fixture covers; Valley Forge flags, and more. All these items are linked on the main website, http://www.flagco.com.
About The Flag Company, Inc.
As the largest online flagpole supplier, The Flag Company, Inc. offers a complete range of flags and flag-related products in addition to its line of flagpoles and signature Flagpole Beacon. Custom screen-printing and digital printing are available for special events, corporate logos, etc. Stock merchandise includes U.S., state, international, and military flags, and all types of accessories such as bunting, memorial cases, pennants, and more. The Flag Company, Inc. is the nation's largest producer of message flags, offering over 300 different messages used by realtors, restaurants, car dealerships, and any other kind of company imaginable. Toothpick flags—both stock and custom-made to order— are also available. The complete product line can be viewed at http://www.flagco.com. "Feel Good Light-Ups," a decorative light lens for fluorescent light fixtures, are now so popular there is a dedicated website at http://www.feelgoodlightups.com. Flagpoles and Flagpole Beacons are featured at http://www.flagpolewarehouse.com. Toothpickflag.com has a wide selection of toothpick flags for any occasion, party or corporate event, with a custom department for that one-of-a-kind special design.