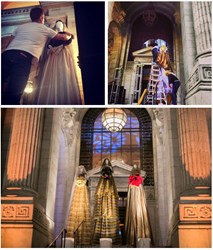 I feel it a great honor that The Knot selected me as this years Gala designer to celebrate the trends and fashions featured at this year's New York Bridal Fashion Week. I'm thrilled to have been involved with this star-studded event.
Los Angeles, CA (PRWEB) October 16, 2013
Brian Worley- visionary wedding designer and planner - dazzles guests at The Knot Gala celebrating New York Bridal Fashion Week held at the historic New York Public Library. The star-studded event brings together the who's who of the wedding world as they engage in the latest trends and fashions for weddings. Brides from all over the world and walks of life look to this event as inspiration for their own weddings.
Guests were visually stimulated by an art installation of five 12-foot mannequins modeling wedding dresses designed by Brian Worley, setting the tone for his Hollywood edge and elegance visionary experience. Worley carefully selected talent that helped unify his vision into an artistic reality.
"I feel it a great honor that The Knot selected me as this year's Gala designer," stated Brian Worley. "I thoroughly enjoyed the entire process leading up to and during this spectacular event. I am thrilled at the outcome and am so grateful to all the talented and supportive vendors that helped make my vision a success."
In addition to the team at YourBASH, vendors that enriched with their own unique talents the visionary foundation of Brian Worley included: Ceci New York with stunning invitations providing guests their first glimpse into the experience, Anna Fearer of More Paper Than Shoes with her giant paper flower bouquets for the mannequins, Abigail Kirsch with the catering and amazing food selection, Hank Lane Music for the festive entertainment, David Beahm with the floral arrangements, and many others that collaborated together to produce an incredible evening.
Individuals and companies can begin their own Brian Worley Experience by visiting BrianWorley.com or by following Brian on the Brian Worley blog, Twitter or Facebook, or by visiting the event production company YourBASH web site at Your-BASH.com.
About Brian Worley
Brian Worley is partner/creative director of YourBASH!, a full service event production company. Brian has 15 years of event experience to his credit. This extensive background of event production, coordination, design and "hands on" know how has allowed him the opportunity to produce events ranging from celebrity and high profile weddings, top entertainment networks, corporate clients, movie premieres, and product launches.