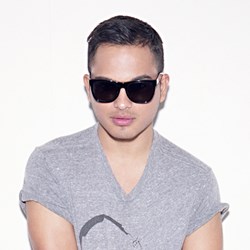 I was so proud to tell him I was moving back to California. I was drunk. And angry. But mostly, I was hurt and felt defeated.
New York, NY (PRWEB) October 16, 2013
Yesterday Solomon surprised more than 50,000 fans on Twitter with the release of his latest single "Swim No More." Premiering exclusively with EQMusicBlog.com, the lead single, lifted from Solomon's upcoming EP Le Garçon, is a mid-tempo mixture of Kanye West inspired 808's, a dash of Frank Ocean's melody and lyricism with a few Justin Timberlake falsettos. Wowing fans with its innovative composition, "Swim No More" highlights the artist in his creative prime.
LISTEN TO "SWIM NO MORE" HERE:
https://soundcloud.com/solrayrecords/solomon-swim-no-more
"Try not to be moved." - EQ Music
"Another pop gem that is highlighted by emotional lyrics and vibrant production. It's honestly like nothing out there." - Jared Braden - Pop Music Critic
A departure from the upbeat pop tunes Solomon released in the past, "Swim No More" finds the genre-bending singer impressively flexing his vocal talents over an aggressive and eclectic urban beat. Using Japanese taiko drums, bird sounds and even orcas, the lead single off Le Garçon is a proper representation of what Solomon has been hard at work crafting in the studio.
WATCH THE LYRIC VIDEO HERE:
http://www.youtube.com/watch?v=sXex5UY9RdY
"The bridge part of the song when I'm talking on a phone, it's actually from when my ex kept texting me one night when I was out with my friends. I was so proud to tell him I was moving back to California. I was drunk. And angry. But mostly, I was hurt and felt defeated." - Solomon
With a lyric video also released yesterday, a music video for "Swim No More" will be shot shortly after to help promote the upcoming EP. Teaming up with MetroMint water, Solomon is hard at work crafting the visuals. "For the first time I'm dancing in a music video. I've been a trained dancer since I was around 6, but never incorporated it with my own music," Solomon explains. "Whenever I see people dancing in music video it irks me out, so I wanted this to feel and look natural. We're working on that now. Lots of leg work, floor work and West African influences. I'm choreographing it myself, and it feels good."
Always one to go against the grain, Solomon's upcoming EP is bound to break the status quo of music packaging. As a prequel to Solomon's highly anticipated debut album, Le Garçon will contain five new original songs. The exclusive iTune's version will also contain three bonus songs, a hidden track, interludes, poems, a digital booklet and more interactive media.
"The idea that music is available à la carte bothers me. So I'm breaking this EP down so it's not an easy listen. You can't just skip to the next track. There's hidden material, so you'll want to listen to it in its entirety." - Solomon
"Swim No More" is available worldwide on iTunes here:
http://smarturl.it/SwimNoMore
ABOUT SOLOMON: Born a Capricorn in San Diego, CA, Solomon is a Electronic Hip-Pop singer/songwriter, rapper and producer. Introduced in 2008 on Eminem's Shade45 Sirius Radio Show, the artist has gone on to release a plethora of singles, remixes, EP's and mix-tapes. His last single, "Life Goes On…" proved to be a success on Sirius/XM and Pandora radio. With music videos debuting on MTV, VEVO, Logo's NewNowNext and more, the singer has toured with the likes of Deborah Cox, Kelly Rowland and headlined a show at West Hollywood's Key Club. Solomon is currently in the studio working on his debut album, Why Boys Cry, slated for a 2014 release. For all things Solomon, please visit solomon-music.com.