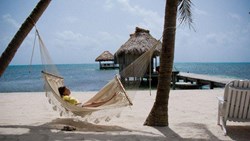 "So once again, thank you Lonely Planet readers for another great mention. We'll make sure Chaa Creek in particular lives up to your expectations."
San Ignacio, Belize (PRWEB) October 18, 2013
According to Chaa Creek's Bryony Fleming Bradley, Lonely Planet's nod to Belize as one of the top ten most relaxing destinations in the world is especially good news to travellers from the Americas.
"It's no surprise to us that a Lonely Planet blog survey listed Belize as one of the world's most relaxing destinations. And it's also good to hear that we're in some very good company in the survey, which puts us on par with more upscale, distant chill-out destinations such as Greece, the Maldives, Seychelles and Thailand.
"But what's great news to travellers from South, North America and Canada, it means that you can travel to one of the top ten most relaxing destinations of the world at a fraction of the price of some of the others, as Belize is so close to many important North American travel hubs. To my mind, that makes Belize even more attractive," Ms Fleming Bradley said.
According to Lonely Planet author Mark Broadhead, Lonely Planet fans on Facebook, Twitter, Google+ and thorn tree were asked to rate destinations they visited by 16 criteria such as 'Relaxing', 'Entertainment', 'Shopping', 'Transportation', 'Off the beaten path', 'Accommodation' and 'Beyond expectations'.
More than 3000 people responded, with the relaxation factor winners rated as:
1.Maldives
2. Fiji
3. Seychelles
4. Bahamas
5. Barbados
6. Thailand
7. Belize
8. Dominican Republic
9. Greece
10. Indonesia
As for the Relaxation category, Mr Broadhead reports; "No surprises here. All of the top 10 destinations for relaxing are known for their amazing beaches. Most are also well-known for their unhurried 'island time' sensibility. Maldives won with the highest score of any category winner in the survey: 47.4% rank it first for relaxing above anywhere else they've been. Greece was the only European country in the top 10. The Caribbean seems like a safe bet if your primary goal is to relax next vacation…" he said.
Ms Fleming Bradley added that, "If cheaper transportation relaxes you, put your feet up and check the difference in ticket prices between say, the Seychelles, Maldives and Belize. That's guaranteed to put a smile on any face. Plus, the less time travelling, the more time enjoying all the things Belize has to offer.
"So once again, thank you Lonely Planet readers for another great mention. We'll make sure Chaa Creek in particular lives up to your expectations," she said.
The Lodge at Chaa Creek is an award winning eco resort set within a 365 acre private nature reserve in Belize.
ENDS