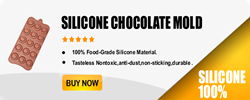 (PRWEB) October 17, 2013
Recently, TOGOHK.com, a reliable chocolate mold supplier in the industry, has launched a chocolate mold promotion for the USA market.
TOGOHK.com is a reliable business of silicone molds, offering premium quality and dedicated services to its customers worldwide. Now, all the new designs of chocolate molds are available at greatly discounted prices, up to 30% off.
TOGOHK.com has a strict quality control system, and strives to achieve both price competitiveness and premium quality control. It wants to support its customers as much as possible.
The CEO of the company says, "We want to say 'thank you' to US customers. We provide our customers with quality chocolate molds at affordable rates, and help them to enjoy life more. Please visit our website and contact us now; otherwise, you will have to pay more soon."
He adds: "Not only do we have the best silicone mold products on the market today, we also have our own engineers and designers, who can always create what customers actually need. Most of our products are light and handy, and even children can use them freely."
About TOGOHK.com
Founded in 2003, TOGOHK has developed into a modern enterprise that provides its customers worldwide a one-stop silicone product solution from conception to delivery. With high technology engineering and advanced CAD and CAM, the company has been serving more than 3000 customers from over 70 countries. Thanks to the innovative designs and 24/7 customer service, the company has become a leader in the industry.
For more information about the business, please visit their website at: http://www.togohk.com/?gallery=silicone-chocolate-mould