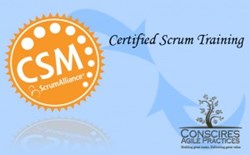 Boston, MA (PRWEB) October 18, 2013
Conscires Agile Practices, the Irvine-based organization specializing in Agile and Scrum training, is hosting a Certified ScrumMaster (CSM) training by Carlton Nettleton in Boston, MA, on Nov 2-3. Four or more people registering as a group can take advantage of the group discounts ($325 off per person).
This 2-day course leverages the wide-ranging knowledge and experience of the participants, so a significant amount of this course will be spent in peer-to-peer interactions, hands-on activities and drawing connections between the classroom material and day-to-day experiences. This course will equip the participants with the knowledge on how to facilitate Scrum in their teams and begin the process of change in their organization.
The course covers
the five values of Scrum and the eight essential Scrum principles,
the Scrum framework (including meetings, roles and artifacts),
the rights and responsibilities of each role in Scrum (Team member, Product Owner, ScrumMaster and stakeholder),
understanding what Scrum means to each individual and what it will mean to be a ScrumMaster in an organization,
watching Scrum in action (as the framework of Scrum will be used to deliver the course material),
identifying the main obstacles to using Scrum in an organization,
applying ScrumMaster skills to solve real life problems
passing the Certified Scrum Master assessment from Scrum Alliance.
All CSM courses are taught by Certified Scrum Trainers. Taking a CSM course and the corresponding evaluation designates the participant as a Certified ScrumMaster, which indicates that the participant has been introduced to basic concepts needed to perform as a ScrumMaster or team member on a Scrum team. This course also satisfies two elements of the CSD track: Scrum Introduction and Elective.
For more information on the training, and to make use of the early and group pricing, visit: http://agile.conscires.com/certified-scrummaster-training-boston-12/
Manoj Vadakkan is Certified Scrum Trainer, and Agile Consultant. In his coaching practice, Manoj uses innovative approaches such as Scrum, Kanban, and Lean to help individuals, teams, and organizations to achieve their potential. He facilitates workshops all over the world including Certified ScrumMaster, Introduction to Agile, Kanban, and PMI-Agile Certified Practitioner®. He is very active as a Leadership Team Member in the Agile Leadership Network DC Chapter and as a Co-founder and Organizer of the premier DC-area Agile conference: Agile DC.
About Conscires Agile Practices, LLC: Conscires Agile Practices is an Irvine-based organization comprising of a team of enthusiasts who believe in delivering world-class products and attaining customer delight, by making use of the best practices of Agile and Scrum. Conscires guides organizations to discover their strengths and identify areas for improvement. The services offered include Training, Coaching, Consulting and Assessment. Conscires conducts frequent trainings in different cities across India and the US. To know about the other CSM trainings and Scrum workshops by Conscires, visit this link: http://agile.conscires.com/csm-training/