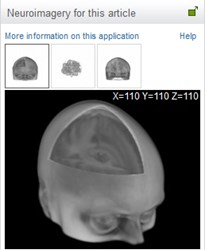 The new viewer provides readers the ability to view and interact with publications' 3D models on a variety of devices, including mobile phones and tablets.
Clifton Park, New York (PRWEB) October 16, 2013
Kitware, a worldwide leader in developing advanced research technologies, today announces collaboration with Elsevier, a premiere provider of scientific, technical, and medical information products and services. Under this partnership, Kitware has developed a collaborative, browser-based cloud visualization viewer for use on a wide range of tablets and other mobile devices.
Currently more than fifty percent of Elsevier's article content contains images depicting 3D models and visualizations. Authors across many research domains, such as archaeology, biochemistry, neuroimaging, and engineering rely on 3D data for discovery; however, when publishing, articles are limited to featuring 2D projected images of the 3D models.
To address this hurdle, Kitware leveraged ParaViewWeb and the WebGL Viewer to provide readers the ability to view and interact with publications' 3D models on a variety of devices, including mobile phones, tablets, laptops, and desktops. The new viewer provides options for local and remote 3D rendering. The remote rendering option is based on ParaViewWeb, a collaborative web interface for 3D interaction built on the ParaView open-source client/server architecture. With this technology, 3D rendering is performed remotely to enable users with limited computing resources to interact with large scenes. For local rendering, the WebGL Viewer calls upon the client GPU to render 3D scenes directly in a web browser. The resulting hybrid viewer enables Elsevier subscribers to surpass the limitations of current digital publications and interact with data in a meaningful way. Readers can see datasets in three different views; pan, rotate, and zoom in-or-out on models of interest; apply different settings such as color, or opacity; and download the dataset.
"Providing Elsevier readers with improved 3D visualization capabilities has been an exceptional opportunity," said Julien Jomier, CEO of Kitware SAS in Lyon, France. "Our infrastructure provides the much-needed resources necessary for scientists to interact with publications and maximize their understanding of existing research."
Dr. IJsbrand Jan Aalbersberg, SVP Journal and Data Solutions at Elsevier said, "The addition of advanced 3D interactivity to the online Elsevier article empowers our authors to optimally showcase their research and enables our ScienceDirect users to more deeply and efficiently understand the research presented. This latest achievement stemming from Elsevier's Article of the Future program, fully demonstrates what the program stands for: improving optimal communication between author and reader, benefiting both of them."
To see the viewer in action, please see this article (http://www.sciencedirect.com/science/article/pii/S0306452213005903) on ScienceDirect, where readers can interact with a neuroimaging dataset. To learn more about Kitware's scientific computing and web-based visualization expertise, please visit http://www.kitware.com or email kitware(at)kitware(dot)com.
About Kitware
Kitware is an advanced technology, research, and open-source solutions provider for research facilities, government institutions, and corporations worldwide. Founded in 1998, Kitware specializes in research and development in the areas of visualization, medical imaging, computer vision, quality software process, data management, and informatics. Kitware is headquartered in Clifton Park, NY, with offices in Carrboro, NC, Santa Fe, NM, and Lyon, France. More information can be found at http://www.kitware.com.
About Elsevier
Elsevier is a world-leading provider of scientific, technical and medical information products and services. The company works in partnership with the global science and health communities to publish more than 2,000 journals, including The Lancet and Cell, and close to 20,000 book titles, including major reference works from Mosby and Saunders. Elsevier's online solutions include ScienceDirect, Scopus, SciVal, Reaxys, ClinicalKey and Mosby's Suite, which enhance the productivity of science and health professionals, helping research and health care institutions deliver better outcomes more cost-effectively.
A global business headquartered in Amsterdam, Elsevier employs 7,000 people worldwide. The company is part of Reed Elsevier Group PLC, a world leading provider of professional information solutions in the Science, Medical, Legal and Risk and Business sectors, which is jointly owned by Reed Elsevier PLC and Reed Elsevier NV.