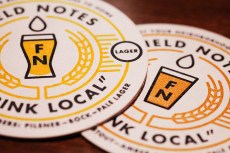 Past editions have always sold out and have recently been spotted trading hands on eBay for significantly over the original retail prices
London, UK (PRWEB UK) 17 October 2013
Bureau Direct are excited to announce the arrival of the latest limited edition notebooks from cult US stationery company Field Notes. These notebooks have become a must-have item for many stationery fans, with previous editions selling on eBay for inflated sums. Each edition celebrates a particular aspect of everyday culture and the new 'Drink Local' edition celebrates the huge demand for speciality beers and micro brewing.
The new Field Notes notebooks are the 20th in a series of limited edition notebooks which started in 2008. The serial number for these books is FNC-20 and this set of notebooks follows the same format as all of the classic Field Notes journals. They are a slimline pack of three stapled pocket notebooks, and each book features a different 'brew' of beer as well as a letter-pressed coaster. There are two packs – lagers (featuring pilsner, bock and pale lager) and ales (featuring stout, amber ale and India Pale Ale).
Bureau Direct have been selling Field Notes for almost two years, and the launch of the limited edition notebooks is always an anticipated event. Past editions have included the Night Sky and the Expedition notebooks, all of which have sold out. The appeal of the Field Notes brand lies in its focus on sub-genres of everyday life – past editions have celebrated traveling salesmen and American seed manufacturers. These books have the same attention to detail, as can be seen by their use of specific papers to make the books. According to Field Notes, they are made with "our acclaimed Finch Opaque Smooth 50# text paper, with a "Hefeweizen" yellow-orange graph grid". It is this care and attention to detail that has seen the demand for Field Notes grow with each edition.
Past editions have always sold out and have recently been spotted trading hands on eBay for significantly over the original retail prices. Bureau Direct fully expect to see the demand for the Drink Local editions to be similarly high, and they have already had to re-order to satisfy the initial demand.