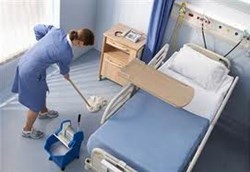 Small cases of infections such as these can be expected from time to time; but these numbers are extremely concerning
Bolton, UK (PRWEB UK) 24 October 2013
The potentially fatal hospital acquired infection, C.Difficile, has been reported to have infected around 33 patients since April of this year- raising concerns amongst the Vale of York Clinical Commissioning Group, who are set to announce their intention to penalise the trust (1).
An investigation will be held by the commissioning body in order to establish the causes behind the high numbers of the disease. If the hospital is found to be negligent in their infection control, they may face a fine of thousands of pounds (1).
Commenting on the high numbers of the potentially fatal infection, Suzanne Yates from medical negligence solicitors, Asons, said:
"It is a terrible shame when a hospitals reputation is let down because of poor hygiene, causing the spread of hospital acquired infections. C.Diff especially, can be fatal if it isn't treated efficiently, and where it is caused by poor care, victims may potentially be eligible to make a medical negligence claim for compensation. Often people aren't aware that a hospital acquired infection can form grounds for a claim of this kind, however it does fall under the umbrella of clinical negligence.
Small cases of infections such as these can be expected from time to time; but these numbers are extremely concerning. Changes need to be made, and lessons need to be learnt to stop any more patients suffering such an avoidable ailment."
C.Difficile is bacterial infection that affects the digestive system, most commonly spread throughout hospitals (2). In extreme cases of the infection, complications can occur that can lead to otherwise avoidable suffering, further treatment and some cases even multiple organ failure and death. Anyone who has been affected by these complication, may be able to make a hospital acquired infection claim. To find out more information visit http://www.asons.co.uk or phone 01204 521 133 to speak to a medical negligence solicitor.
(1) The Press, York Hospital Foundation Trust rapped over infection rates, 05/10/2013
http://www.yorkpress.co.uk/news/10720079.York_Hospital_Foundation_Trust_rapped_over_infection_rates/
(2) NHS Choices, Clostridium Difficile
http://www.nhs.uk/Conditions/Clostridium-difficile/Pages/Complications.aspx

About Asons Solicitors:
Asons Solicitors is a Bolton-based law practice that specialises in personal injury and industrial disease claims. Founded by brothers Imran Akram and Kamran Akram, Asons Solicitors has developed to become a young and dynamic law firm that delivers practical solutions to clients in times of difficulty. Their continued focus on their staff has seen them awarded with the Investors in People "Gold Award"; which is reflected in the professional and personable approach they take in working with clients. They strive to grow and to develop, and their supportiveness and attention to detail ensures that their clients use them time and again.
For further information contact:
Email: info(at)asons(dot)co(dot)uk
Website: http://www.asons.co.uk