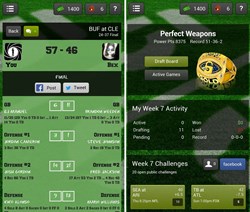 Don't just watch the game...Play it!
Los Angeles, CA (PRWEB) October 17, 2013
RotoPop is proud to announce the launch of their 100% mobile head to head fantasy football game. Launched in the beginning of the 2013 football season, RotoPop has already added two product updates including messaging as well an auto draft feature. With hundreds of weekly challenges listed already, it's easy for anyone to just plug and play.
"Fantasy football is just exploding. We wanted to create a fun and exciting experience not only for the hard core fan, but the casual one as well." said RotoPop founder Joe Balsamo who, along with Sashi Bommakanty, created the game. "We believe people play fantasy football for the thrill of the actual win and not necessarily to win money. Everyone thinks they're a fantasy expert so we created a platform for people to simply prove it."
RotoPop allows users to connect with a friend or the public and challenge them to a single NFL game with a friendly wager based on virtual currency. Challengers pick a game and draft players from only that game. If a drafted player gets hurt or if players are under-performing, the RotoPop user may make adjustments at halftime as the rosters unlock. It doesn't require a full season commitment and anyone can play at any time.
The game is centered around a single NFL contest so naturally football fans may see the RotoPop road team promoting the mobile app at different venues throughout the season. All the fun of their social marketing efforts are documented on their Facebook fan page. The fan page also updates each week with a multi-dimensional Leaderboard listing RotoPop's top players.
RotoPop is now available as a free app in the App store and Google Play.
About RotoPop:
RotoPop is a mobile sports gaming company that aims to bring social games centered around live sporting events into the hands of all types of sports fans. RotoPop merges fantasy sports elements with social game mechanics to create fun, interactive and highly engaging games that take your sports viewing experience to another level.