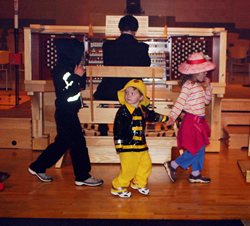 Mahtomedi, Minnesota (PRWEB) October 16, 2013
St. Andrew's Lutheran Church will host its "Tricks and Treats with the Might Organ" concert on Sunday, Oct. 27 at 6:00 p.m. The church is located at 900 Stillwater Road in Mahtomedi.
The concert, presented by organist Bill Chouinard, will be compromised of musical pieces that can be enjoyed by those of all ages and will include Bach's famous Toccata and Fugue in D Minor. The performance will also feature special lighting and effects, and is designed with young listeners in mind. Children are encouraged to come in costumes, as there will be a parade held in the atrium.
Slices of Papa Murphy's pizza will be sold in the Youth and Sports Center from 4:30-6:30 p.m. Refreshments and treats will be served to children after the brief program, and an offering will also be received.
For more information about St. Andrew's Luther Church, visit http://www.saintandrews.org, or call (651) 426-3261.
About the Church:
St. Andrew's Lutheran Church is a community of faith that welcomes all! They invite individuals to come as they are. They are there to help people grow in faith and to equip them to use God-given gifts to make a difference in the world in the name of Christ.
They strive to provide worship experiences that draw people closer to a loving God. With the resounding Casavant Organ in the Main Sanctuary or the rocking, contemporary worship in the Great Hall, they are dedicated to pointing all people to Jesus Christ.
Their traditional worship service uses the gifts of the nationally recognized Casavant Organ, stellar choirs and dynamic preaching. The contemporary worship service is an assembly of some of the best bluesy rock in the state. Firm biblical preaching and weekly Holy Communion are offered to all people for a transformational experience that lasts a life time.
St. Andrew's is a participating member of the ELCA. Visit their website to see their schedule of events and worship http://www.saintandrews.org.