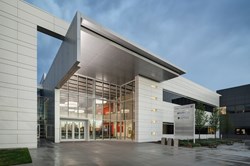 Bringing students a new campus building with modern finishes and amenities is important to DeVry
Chicago, IL (PRWEB) October 16, 2013
Skender Construction has finished construction on a new 87,000 square foot DeVry campus building. The facility, located at 3300 N. Campbell Ave., is home to DeVry University and its Keller Graduate School of Management, Chamberlain College of Nursing and DeVry University Advantage Academy, a dual-enrollment, dual-degree high school for Chicago Public School students. The two-story building is connected to an existing classroom facility, and the construction team also created a retention pond and a basketball court on the site. Solomon Cordwell Buenz (SCB) and IA Interior Architects were the architects on the project.
Construction was completed while the campus was fully occupied. With many students in the area during construction, the team used Lean scheduling and phasing techniques to ensure that students could still move around campus safely. The team dealt with surface issues on the site, such as a cable line that was discovered below the site where the retention pond was slated to be built and old equipment from the former Riverview Park that had been buried and needed to be removed before construction.
The building houses many basic campus elements, such as classrooms, faculty offices and a bookstore. A green roof, game room, AV room and lounge contribute to the sense of community for students at the DeVry campus. The building acheived LEED-Silver Certification through building a green roof, using low VOC paints and adhesives throughout the project and recycling 95% of construction waste.
"Bringing students a new campus building with modern finishes and amenities is important to DeVry," says Adriana Calderon, the owners' representative from Jones Lang LaSalle. "The construction team was able to do that while remediating site issues and keeping students safe."
ESD provided mechanical, electrical and plumbing engineering, Robert L. Miller & Associates was the structural engineer and V3 served as civil engineer.