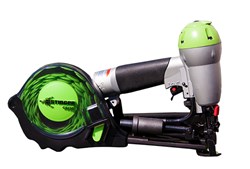 "STINGER Cap Systems continues to gain market momentum, so it made sense to bring our original cap stapling technology under the STINGER brand and provided us the opportunity to develop a great looking tool that includes some pretty cool updates."
Grand Rapids, MI (PRWEB) October 22, 2013
National Nail Corp. is proud to announce that, beginning in October 2013, the original Crossfire® Cap Stapler will join the STINGER brand family. Now known as the STINGER CS150 Cap Stapler, this versatile tool will continue to deliver best practice installation for securing roofing felt/synthetic underlayments, foamboard and housewrap.
"The Crossfire tool has been in the market for over eight years and its proven technology has garnered a fantastic following and over 50% market share," said Rocky Stroud, STINGER Product Manager at National Nail Corp. "STINGER Cap Systems continues to gain market momentum, so it made sense to bring our original cap stapling technology under the STINGER brand and provided us the opportunity to develop a great looking tool that includes some pretty cool updates."
The STINGER CS150 shoots 7/8", 1-1/4" and 1-1/2" cap staples for installing roofing felt/synthetic, foamboard and housewrap. The tool has a lightweight, compact design and weighs only 4.2lbs. making it easy to maneuver. The design is ergonomic to reduce arm fatigue, and the clear, large capacity basket feeds in seconds for fewer, faster reloads.
Some improvements to the CS150 include a more secure latch on the basket also found on the STINGER CS58 Cap Stapler and the CN100 Cap Nailer, and the exhaust air hose has been engineered internally through the motor body to reduce repairs. The overall look and feel of the tool reflects the sharp STINGER branding, and the CS150 will be sold in a marked carrying case for protection and easy transportation.
Crossfire StaplePacs have also been rebranded as STINGER StaplePacs. Available in 7/8", 1-1/4" and 1-1/2" 2000ct. boxes, the trilingual packaging includes imperial and metric measurements for distribution outside the United States, and reflects the STINGER branding.
STINGER CS150 Cap Staplers will begin shipping to retailers over the next two weeks, and STINGER StaplePacs will follow once all Crossfire StaplePacs have been sold.
STINGER Cap Systems, manufactured and distributed by National Nail Corp., set the standard for securing roofing underlayment, housewrap and foamboard. Each STINGER pneumatic and non-pneumatic tool automatically delivers the holding power of a cap and staple or nail for best practice installation as recommended by manufacturers like DuPont®, Typar®, Grace and Titanium™. For more information, visit http://www.stingerworld.com or call 1-800-968-6245 ext. 2134.
National Nail Corp., headquartered in Grand Rapids, Mich., is an employee-owned manufacturer and distributor of high quality, innovative building products and service solutions for the residential and commercial construction industries. Other National Nail brands include CAMO® Fasteners, Pro-Fit® Fasteners and Impressions Storm Doors and Windows.