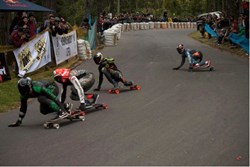 Jonas Richter is one of Bustin Boards brightest stars not only because of his talent on a board, but also because he has the heart of a lion.
Bogotá, Colombia (PRWEB) October 16, 2013
On October 12th, Jonas Richter traveled to Bogota DC Colombia, and on October 14th raced his way into 2nd place. Top speeds of 52 MPH were reached by the top competitors and the Final Heat was stacked with respected Pros. Alex Tongue, James, Kelley, Max Ballesteros, and Jonas Richter.
Jonas had to race very experienced Pros, and he managed to beat some of the best racers in the world! He's a real champion and a true soul driven warrior! Bustin Boards is proud to support such a young talented young athlete who knows how to keep his cool.
Alex Tongue took 1st, Jonas Richter took 2nd, James Kelly took 3rd, and Max Ballesteros took 4th.