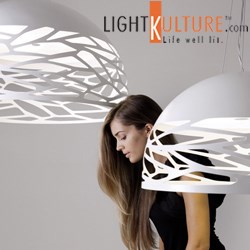 Kelly is a temptress, as if teasing you to come closer. I really love the personality of this fixture.
San Francisco, CA (PRWEB) October 17, 2013
LightKulture.com is pleased to offer Studio Italia Design Kelly series, refined contemporary lighting from Italy. "We are very excited to offer the entire Kelly series: dome, sphere and standing lamps," noted Susan Inderbinen President of LightKulture.com. Design by Andrea Tosetto, the initial collection consisted of 2 sizes of 3D laser die-cut dome shape pendants. With the tremendous market success of Kelly 2012, Tosetto expanded the collection this year into 3 additional sizes. Now, the Kelly series includes the original open weave dome pattern, and the new 360 degree sphere pendants that are simply stunning. The suspension series has also been expanded to include the 3 new spherical shape standing lamps, for an exciting way to layer the light throughout your space. Used as accent floor lamps, Kelly adds mood, drama and excitement. The flat matt white metal finish softens the feel of the retro design, while the shiny milky white glass inner diffuser helps to maximize the light output.
Studio Italia Design was started near Venice in the late 1940's by Angelo Tosetto. His constant research and passion led him to Murano to learn glass blowing techniques, which soon brought him prestigious recognition for his elegant and refined chandeliers. For over half a century of history and experience, three generations have carried on the family legacy. As one of the oldest Italian lighting companies, Studio Italia Design has distinguished itself for its passion and sensitivity, combined with the art of Murano glass work and metal work to create extraordinary, contemporary, timeless designs. Antique knowledge and artisan ability weave together with experimentation, continual research and innovation, to create objects that are more than light. They create magic. These objects are not just light sources, but also decorative embellishments with their transparency, use of light and refraction. Studio Italia Design offers architectural solutions with avantgarde lighting sources, cutting edge and classic materials, including high quality metals combined with efficiency, personality and attention to technique.
For more information go to:
Studio Italia Design http://www.lightkulture.com/m-95-studio-italia-design.aspx
Kelly by Studio Italia Design, Contemporary Lighting Refined, Now Available at LightKulture.com
The moment I saw the Kelly dome pendant I was captivated. I find the style so cutting edge, so avantgarde, so mysterious, I just had to get a closer look. The sizes offered are great for a foyer entry, breakfast nook, and dining room. The styling and playful lighting effects work both residentially, as well as for restaurants, hotel lobbies, conference rooms and as a focal point for high -end retail stores. As a matter of fact, we recently worked with an interior designer who used the large Kelly sphere in a 2 story the foyer, the small dome in the breakfast area, and the Kelly mini standing sphere LED table light in the media room. Obviously Andrea Tosetto, third generation lighting designer of this family run company, has inherited the family passion for light and design. It is evident in this alluring collection of laser cut domes and spheres. Kelly is a temptress, as if teasing you to come closer. I really love the personality of this fixture. We sell Studio Italia Design with confidence. The addition of the Mini Standing Kelly Sphere in LED is a great combinations of technology and true design, core values Studio Italia Design has maintained for over 50 years" noted Susan.
About LightKulture
At LightKulture.com our mission is to offer the finest energy efficient contemporary lighting and light fixtures from around the world. We have assembled an exciting collection of the industries most innovative decorative and architectural lighting. We are proud to offer lighting solutions for both your home and work-life environments. Simplicity in design is complicated, function makes it last. Be inspired by our range of essential designs from well respected American and European manufacturers. In today's world, energy efficient lighting is as important as eco-friendly or green lighting fixtures, such as LED or CFL lighting. We offer the very best energy efficient lighting and light fixtures, both high value LED lighting fixtures and CFL lighting fixtures in modern and contemporary styles that provide quality, innovation and authenticity.
LightKulture.com
http://lightkulture.com
Email: sales(at)lightkulture(dot)com
Tel. 941-330-0422