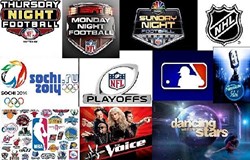 Watch the live game, not the ads.
(PRWEB) October 16, 2013
Now viewers can watch live TV sports, reality and awards shows with no commercials through MyTVChoice, which puts them in control of live TV.
While many options are available to skip commercials on recorded TV shows, MyTVChoice is the first technology that allows viewers to skip commercials on games and select shows they want to watch live. Commercials are automatically replaced with the channel of choice during live sports, select reality shows and award shows. Simply plug the MyTVChoice Gateway into a wall socket, download the link to a WIFI enabled computer, and download the app to an iPhone (any model), Android, iPad or Android tablet. Then set a primary and secondary ("safe") channel with the corresponding MyTVChoice mobile application. If the viewer "channel surfs" during a commercial, MyTVChoice will still return to the selected game or other program.
"Now the consumer is driving the bus and can have a far more enjoyable, relaxing experience watching the game, reality or awards show," said company founder Rich Theriault. "People have different reasons for disliking ads, but most people don't want to watch them. We've created a total paradigm shift in how people can watch live TV with a disruptive technology that is long overdue."
Theriault is passionate about creating technology that puts consumers in control rather than being held captive, in this case, to TV commercials. Holder of several U.S. and foreign patents, he has been involved in technology throughout his career. Theriault founded Strategic Product Development, which developed more than 200 complex electronic instruments and products.
Here are some user comments:
Andrew Beckwith, Executive Vice President, Mass. Family Institute, and a parent in Wenham, MA, said:
"I have been using the MyTVChoice Gateway, known affectionately as 'the puck' due to its small round shape and black color, for several months. I like to watch sports with my family, including my two young sons, but I don't like having to worry about the commercials. Nothing's worse than going from a touchdown to a Victoria's Secret commercial, or a gruesome shot of a CSI crime scene in an ad for their next episode. MyTVChoice automatically changes the channel right at the commercial break to whatever channel I've chosen, usually an all music station. I don't have to guess when the commercials on the game are over by bouncing back and forth on my own, because the "puck" knows and switches it back automatically too. As its tagline says, 'Watch the game, not the ads.'"
"I wasn't sure at first if MyTVChoice would be that useful to my family, because we watch mostly Netflix, and we have a DVR. But, we love watching sports together, or just having a game on in the background as we do other things. Even if we use our DVR to tape the game, and watch it on 15-minute delay, we still had to have our remote ever-ready to fast forward through commercials, and then go back if we skipped too far. With MyTVChoice, it's fire and forget. I just pick the game I want to watch in the app on my smartphone, and I don't have to touch the remote all night. I've been impressed with how liberating that has been.
"I think this is a must-have tool for parents with young kids, but it's a great way to take control over your live TV experience for anyone. We're definitely looking forward to a much more family friendly football season this year," Beckwith said.
Alan Ringuette, Maynard, MA, said: "My kids get culture with classical music instead of channel surfing during baseball commercials thanks to MyTVChoice."
Kimary Pomphrett, Sudbury, MA, said: "My husband and I can enjoy a game and relax because we know that our kids won't be seeing offensive commercials."
As soon as a commercial is about to begin, the TV will automatically flip to the safe channel of choice, be it another game, news or music channel. When commercials are over, the TV will automatically return to the selected game or show.
MyTVChoice is currently available for national broadcasts of major league baseball, basketball, hockey and the NFL, including Sunday Night Football, Monday Night Football, Thursday Night Football, nationally broadcast Sunday games and all the playoffs. National broadcasts of NCAA football will also be covered. Comprehensive regional coverage is available within 100 miles of Boston which includes the Patriots, Red Sox, Celtics, and Bruins. The service will soon expand to other TV markets for regional coverage.
In addition to sports, MyTVChoice covers Dancing with the Stars, American Idol and The Voice, and will cover awards shows. The 2014 Winter Olympics and World Cup Soccer will be covered as well.
The Gateway is free, and the subscription is $9.95 per month for 12 months, $4.95 thereafter for loyalty subscribers. If the subscriber does not like the service, the box can be returned, the subscription canceled, and a full refund will be sent after 30 days.