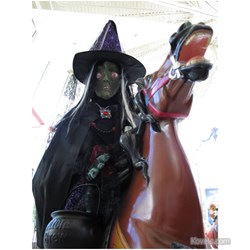 Cleveland, OH (PRWEB) October 16, 2013
From October 15 to Halloween, October 31, the Carousel Pavilion at Western Reserve Historical Society in Cleveland will be decked out in character—and sometimes creepy—splendor. The horses have Halloween visitors—Superman, Wonder Woman, Mickey Mouse and Captain America among others! Cleveland's Euclid Beach Park Carousel Society, the organization leading the restoration of the historic Carousel, invites museum visitors to stop in to the Carousel Pavilion that will house the Carousel on Saturday, October 26, and Sunday, October 27, to snap photos with the decorated horses. The first 100 people to visit the Pavilion that weekend will receive an authentic Humphrey's Euclid Beach popcorn ball.
Enter to Win a Euclid Beach Park Carousel Basket! Visitors are also invited to submit photos of the horses and characters with friends and loved ones in a photo contest sponsored by the Carousel Society. Snap a photo of a favorite decorated horse and email it to the Carousel Society, info(at)clevelandcarousel(dot)org, or upload the photo on the Carousel Society Facebook page. Photos are due by Thursday, October 31, 2013. Include your name, phone number, email address and name(s) of photo subjects. The winner will be selected by the Carousel Society and will receive a gift basket of Euclid Beach Park goodies.
All photos will become property of the Carousel Society and may be used in promotional information about the restoration project.
Visit the Carousel Pavilion and Walk Around Where the Carousel will be Installed.
The Carousel Pavilion at the Western Reserve Historical Society is open Tuesday – Saturday, 10 AM to 5 PM, and Sunday, noon to 5 PM. Fifty-two original hand-carved wooden Euclid Beach Park Carousel horses and a mockup of the center section are on display.
About Cleveland's Euclid Beach Park Carousel Society
Cleveland's Euclid Beach Park Carousel Society was established in 2010 with the goal of returning the Euclid Beach Park Carousel to full operation in Cleveland.
About Euclid Beach Park Now (EBPN)
Euclid Beach Park Now is a community organization formed in 1989 to preserve the memory of Euclid Beach Park through lectures, exhibits, displays, memorabilia shows, television and radio appearances and other forums. EBPN also supports the preservation of items from Euclid Beach Park that may be owned by other organizations, private individuals or any other entity.
About Western Reserve Historical Society
Western Reserve Historical Society is one of the largest regional historical societies in the United States and is known for its vast and diverse collections. WRHS was founded in 1867 for the collection and preservation of the heritage of the Western Reserve (Northeast Ohio). WRHS owns and operates multiple historic sites throughout northeast Ohio, including the History Center in University Circle, Hale Farm & Village and Shandy Hall.
Photos of the Carousel Pavilion are available upon request. To learn more about the Euclid Beach Park Carousel, go to http://www.clevelandcarousel.org, their Facebook page, or follow the Carousel Society on Twitter @CLECarousel. Tours of the Carousel Pavilion are also available upon request.