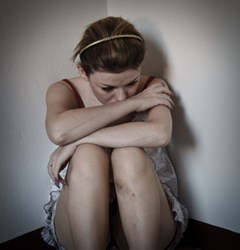 This is a great book for anyone who is affected by emotional abuse. It's like a manual readers can go back to when they feel confused, especially since abusers breed confusion in order to remain in control.
Minneapolis, Minnesota (PRWEB) October 17, 2013
Every year since 1987, the month of October has been officially recognized as Domestic Violence Awareness Month. While that campaign focuses more on the physical manifestations of abusive relationships, Lisa Kroulik's new book "Emotional Assault: Recognizing the Abusive Partner's Bag of Tricks" looks more at the psychological mind games and bullying behavior that often make up the personality of an abusive male partner. While acknowledging that both men and women are capable of emotional and physical abuse, Kroulik focuses on the male aggressor/female victim in this book upon the advice of her editor.
While some emotional abusers gradually progress to physical abuse, many do not. Women who are subject to verbal abuse and emotional manipulation often feel like they have no right to complain because their partner has never hit them. The abusive partner often reminds her of how good she has it and lets her know she is crazy to even question his hurtful and immature behavior. This book sheds light on many of the tactics emotionally abusive people use, all the while bragging that they would never do anything to hurt their wife or girlfriend. Kroulik herself was in this type of relationship and wrote this book to be an encouragement to others.
In late October 2013, Amazon will launch its Kindle MatchBook program to help online shoppers save on the cost of their favorite books. When a book is enrolled in this program, readers who purchase the print edition can save 50 percent or more off the Kindle version of the same title. This includes readers who previously purchased the print edition. The Kindle version of "Emotional Assault" will be marked down from $3.99 to $1.99 with this promotion.
Kindle Download Product Details
File Size: 352 KB
Simultaneous Device Usage: Unlimited
Sold by: Amazon Digital Services, Inc.
Language: English
ASIN: B00DJE9YTM
Text-to-Speech: Enabled
Lending: Enabled
Book available for free download for Amazon Prime members.
Publisher: Create Space Independent Publishing Platform (May 29, 2013)
Paperback Product Details
76 pages
Product Dimensions: 0.2 x 6 x 9 inches
Shipping Weight: 5 ounces
Average Customer Review: 4.8/5.0 stars, 17 ratings (13 5-star ratings)
ISBN-10: 1482704897
ISBN-13: 978-1482704891
About the Author: "Emotional Assault: Recognizing an Abusive Partner's Bag of Tricks" is Lisa Kroulik's first published book. Ms. Kroulik is passionate about helping others recognize and take a stand against abusive behavior. She also works as an online copywriter and has produced 10,000 articles written towards search engine optimization since 2011. She is available to help new clients with their online content needs.