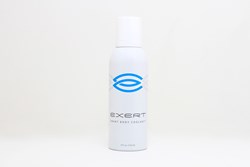 "Whether at home, the office, or anywhere, Exert works when needed." Christopher Joyce, CEO of Exert Co.
Wilmington, DE (PRWEB) October 18, 2013
There are times when working up a sweat feels really good and there are other times when sweating is not just uncomfortable, but embarrassing and annoying. Exert Co. recently launched its Exert Smart Body Coolant that is proving to be a lifesaver for those who deal with excessive sweating. Few people want to wake up soaked in wet sheets or have to bring an extra shirt for the big meeting "just in case". Everyone experiences skin temperature spikes at some point due to weather, hormones or stress, and for some these spikes can significantly impact their quality of life. Exert is aimed at making a difference for these people.
Exert Smart Body Coolant gets sprayed once on the body and activates only when there is a skin temperature spike. Exert doesn't feel cold when applied but instead works by drawing heat away from the body only when the body needs it. When skin temperature rises, Exert activates and cools the skin by 2 to 6 degrees. When body temperature drops to normal, Exert recharges and is ready to cool again without the need to reapply.
"Whether it's the result of menopause, stress, medication, anxiety, environment or even physical exertion, Exert provides invisible, scent free, hypoallergenic all-day protection," explained Christopher Joyce, CEO of Exert Co.
This is welcomed news for the approximately 27 million women in the U.S. who have hot flashes or experience night sweats and that number is expected to grow 10 percent annually. Exert also targets the embarrassing issue of excessive sweating, which affects upwards of 9.5 million men and women. These numbers pale in comparison to the 122 million individuals who regularly engage in athletic activity that would benefit from Exert's cooling effects. People get hot, people sweat, but Exert Smart Body Coolant can keep even the hottest person cool.
According to the Stanford University report, Innovations in Exercise: Increasing Capacity of Sedentary Obese Women with Cooling, exercise tolerance in women improved with skin cooling during exercise more so than those women who did not have cooling. They witnessed improvement in blood pressure, heart rate, waist circumference, and overall aerobic fitness. This study is one of many that demonstrated that remaining cool under various conditions is important to health and productivity.
Exert Smart Body Coolant is the culmination of more than three years of development, research, and testing by Exert Co., which was founded by Mr. Joyce and Arvind Rao, Chief Innovation Officer.
To learn more about Exert Smart Body Coolant visit http://exertco.com or call 877-929-9922.
About Exert Smart Body Coolant
Exert Smart Body Coolant is a once a day body spray that activates only when skin temperature spikes. Exert cools the body by up to 6 degrees. Whether it's menopause, hot flashes, stress, medication, anxiety environment, excessive sweating, or physical exertion, Exert Smart Body Coolant helps regulate skin temperature. To learn more visit http://exertco.com
About Exert Co.
Exert Co. is a Wilmington, DE based company that makes smart, functional, consumer products that solve "big market" problems in completely new ways.