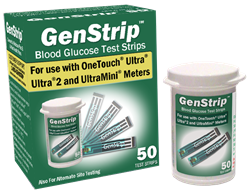 "This is a high stakes game...the bottom line for us is providing a cost-effective solution for diabetics so they can maintain their quality of life."
Los Angeles, CA (PRWEB) October 22, 2013
Los Angeles, Ca. October 17, 2013 Decision Diagnostics Corp., the exclusive worldwide sales, service and regulatory processes agent for the GenStrip™, the Green Test Strip, specifically designed to work with the Johnson & Johnson's LifeScan family of glucose testing meters, is poised to enter one of J&J's strongest product's market share in the at home glucose test strip market.
In March of this year, Forbes' article "…Lucrative Glucose Monitoring Business From Tiny Diagnostics Outfit", detailed the business of glucose monitoring growing at a rate of 25% annually, and experts estimate that by 2017, the market will exceed $30 billion worldwide.
Keith Berman, the CEO of Decision Diagnostics said, "we are very excited by the initial response to GenStrip™, we had some challenges implementing our packaging and marketing plans" and Berman continued, "but being a small company we have the talent and resources to make effective changes quickly and maintain our momentum."
And GenStrip momentum could lead to a substantial market share and profits. Diabetic testing is estimated to generate about 23 billion in annual revenue with experts estimating the market will grow to 30 billion by 2017. This includes J&J's LifeScan Ultra meters and glucose test strips and among the diabetics who test their own glucose levels at home on a daily bases.
Berman stated, "Our product performance is strong and the statistics bear that out; and with FDA approval and our pricing model; we felt it was important not only to our shareholders, but for the at home diabetic test strip community as well to get GenStrip™ to market in a timely manner."
And an article that appeared in MarketWired on September 3rd titled supports Berman's strategy, "Decision Diagnostic's GenStrip Could Change the Blood Glucose Market" states that GenStrip™ will be well received due to new payment changes for test strips caused by Medicare's mandated competitive bidding policies that started in July 2013.
Berman discussed GenStrip™ as a viable solution to the mandate, "Our new Mail Order/Competitive Bidding version will offer the market an alternative to the 'direct to patient' fulfillment model with a high quality diabetic test strip that is profitable without forcing diabetics to endure rising cost of co-payments.
Decision Diagnostic is preparing to roll out the next generation of GenStrip™, which the company believes will fill a niche in the diabetes testing market that is still virtually unmet, says Berman. "This is a high stakes game, but the bottom line for us is providing a cost-effective solution for diabetics so they can maintain their quality of life".
For more information
Terry O' Rourke (terryiching(at)gmail(dot)com)