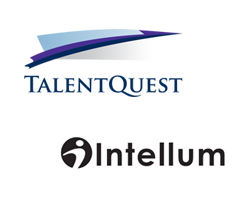 Atlanta, GA (PRWEB) October 18, 2013
Two Atlanta-based companies, TalentQuest and Intellum, announced a joint venture which seamlessly integrates Intellum's award-winning LMS, Exceed, into TalentQuest's leading talent management software suite.
In addition to its current offerings: assessments, performance management, goals, compensation, succession and 360° feedback, TalentQuest will be offering Intellum's Exceed as TQ Learning, the newest software module in the TQ Suite. This offering completes the TQ Suite providing everything an organization needs to maximize its workforce potential throughout the employee lifecycle.
This venture between the two well-respected providers comes as a welcomed development at a time when human resource managers have been scrambling to keep up with a wave of consolidation in the HR software industry. Both TalentQuest and Intellum retain a 98% client retention rate due to unmatched customer service.
"The recent market volatility has been a disaster for HR managers and for the companies they serve," said David Corrigan, Vice President of Sales with Intellum and a long-time industry analyst. "The race to cobble together comprehensive software 'suites' has led to software that doesn't work as promised, yawning service gaps, and integrations that take years to realize."
Intellum's CEO, Chip Ramsey, is quick to point out that there's a better model for how software ought to function. "Consumer software and the mobile apps we use in our personal lives are 'plug-and-play.' You choose a piece of software, download it, and it automatically works with all of your other apps. Why shouldn't enterprise software work the same way? That's the ease of use we should be shooting for."
TalentQuest is a leading provider of powerful cloud-based talent management software and consulting. Intellum has over a decade of industry experience and has overseen hundreds of successful LMS implementations. While both companies are known for products that integrate seamlessly with almost any human resource software, their joint venture is intended to take the 'plug and play' model one step further.
This venture will provide a distinct advantage for human resource managers tasked with improving organizational performance. Skills gaps identified in the TalentQuest system will automatically recommend training and allow for one-click enrollment and launch of necessary online and mobile learning.
"We have been demonstrating the power of authentic integration for years now," said TalentQuest president, Kevin Sessions, "With the addition of TQ Learning, we will continue to provide excellent software, a superior user experience, and a level of service and support that is unmatched in the talent management industry."
About TalentQuest:
TalentQuest is a leader in cloud-based talent management software and human capital consulting. Our solutions help organizations worldwide optimize how they select, manage, develop and retain top talent. Headquartered in Atlanta, Georgia, TalentQuest serves organizations of all sizes, industries and geographic locations. The combination of TalentQuest's comprehensive consulting and dedicated support model coupled with flexible, configurable and easy-to-use software results in an industry-leading 98% client retention rate. That's talent management, simplified.
For more information on TQ Learning (or to schedule a demo), please contact Dallas Nevins or visit http://www.talentquest.com.