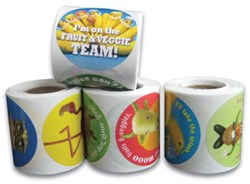 Owatonna, MN (PRWEB) October 16, 2013
Halloween is fast approaching, a time full of festive costumes, spooky decorations, pumpkin carving, and loads and loads of sugary candy. Although there is nothing wrong with an occasional sweet treat, when kids come home with pillowcases full, one has to wonder…are there any alternatives to bags of Halloween candy?
Of course there are. Here are five suggestions for nutritious and safe treats that don't trick the body into unhealthy habits:
Stickers: Kids love stickers for their books, craft projects, or to add to their costumes. You can even hand out healthy eating stickers from Learning ZoneXpress. Best of all, stickers don't have calories, sugar, or corn syrup.
Party Prizes: It's not too hard to find spider rings, ghost erasers, and other Halloween-themed prizes. Other suggestions from Learning ZoneXpress Facebook fans include glow sticks, silly putty, yo-yos, and even tiny tubs of Play Doh. Lots of fun for not a lot of money. Colorful and educational bookmarks or temporary tattoos are fun options too.
Healthy Snacks:
-Granola bars
-Small bags of crackers or dried fruit
-Mini bags of popcorn
-Pumpkin-shaped pretzels
-Trail Mix
-Nuts
-Sugar free gum
-String Cheese
-Fruit snacks
-Mandarin orange cups with jack-O'-lantern face drawn on top in permanent marker
Safety-conscious parents appreciate something packaged, so fresh fruit, alas, is not such a great idea.
Kid's Crafts: All kinds of Halloween craft projects can be found online or DIY craft kits can be found at local department of dollar stores.
Money: Think about giving out nickels, dimes or quarters. The best part? The kids can spend the leftovers instead of eating them. (And at 20 cents per bite-size bar, it's about the same price as candy.)
There you have it. Five healthy alternatives to Halloween treats. If you have any other ideas, please share them on the Learning ZoneXpress Facebook page.
Have a safe, happy, and healthy Halloween everyone!
Learning ZoneXpress is a leading source of nutrition education resources. Its mission is to improve life-long health and vitality by providing relevant, creative and affordable teaching tools about healthy behaviors and nutrition. Learning ZoneXpress offers a wide variety of learning aids and affordable education videos, posters, handouts, games, lesson plans, and more. For more information about Learning ZoneXpress products, visit http://www.learningzonexpress.com or contact Toni Meyer at 888-455-7003.