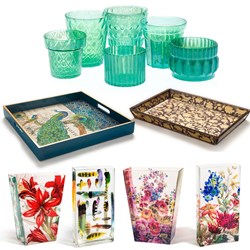 (PRWEB) October 18, 2013
The home décor, lifestyle and personal accessories brand IndiaCircus which is headed by Design Director Krsna Mehta is pleased to announce the new arrivals of products. This collection includes vases, candle votives and trays.
This collection is new and refreshing. The emphasis is on elegant and graceful design. The vases are exquisitely beautiful with designs of flowers and feathers. Made out of glass these vases are delicate and pretty are a must have.
The latest candle bases and votives are beautifully crafted. With host of colours and patterns ranging from deep red to jade these candle bases and votives are unique and will definitely make a space come alive. They also make ideal gifts for the festive season and are perfect for mood lighting in the house.
A tray doesn't have to be dull and boring and the new collection of trays proves just that. The trays are made out of wood with designs that range from Mughal palaces to colourful motifs. These trays are definitely a twist on the traditional and a product which would a useful item to have.
IndiaCircus is a design house which believes in attention to detail. Each thing that they design has to be something unique and precious. It is this design ideology that makes every product of India Circus a true pride and pleasure to own. For more details log on to in indiacircus.com.