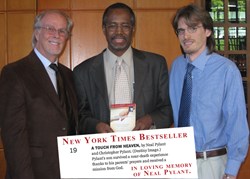 Neal was a wonderful man and I just wish he could have been here to celebrate this with us.
Shippensburg, Pa (PRWEB) October 17, 2013
It was with great sadness last week that everyone at Destiny Image learned of the sudden and unexpected passing of an incredible man of God and author, Neal Pylant.
Pylant co-wrote his family's amazing true story with his son, Christopher Pylant, "A Touch from Heaven."
Since the release of the book in May of this year, it has received rave reviews from readers, ministers and reviewers around the country. The Pylant's were excited to see God using their story as a way to bring faith and hope to other families of children with terminal diseases.
Early last week, Ronda Ranalli, the head of acquisitions at Destiny Image, received a phone call with the devastating news of Pylant's sudden passing.
"All of us at Destiny were saddened to hear the news, and our hearts ache for the Pylant family," said Ranalli.
This week, following the news of his passing, Pylant's book, "A Touch from Heaven," hit the New York Times Best-seller List for E-books.
"When I heard the news of the book hitting the list, I just sat there with tears in my eyes. Neal was a wonderful man and I just wish he could have been here to celebrate this with us," said Joe Jestus, Chief Matchmaker for the Nori Media Group, the parent company of Destiny Image.
Neal is survived by his wife and two children, including Christopher.
"A Touch from Heaven" is the amazing true story of the Pylant's journey of faith as they fought for the life of their young son who was suffering from an inoperable brain tumor. Dr. Ben Carson was the lead surgeon for the family and witnessed the amazing miracle.
Destiny Image, located in Shippensburg, Pa, was founded in 1983 by Pastor Don Nori, Sr. It seeks to accurately represent authors who have a call to share God's present word to His people and to make these authors easily accessible to the Christian body around the world in every form of media possible.
For Press Inquiries, Interviews and Review Copies:
Kristen Adams
(717) 532-3040, Ext. 135
kadams(at)norimediagroup(dot)com