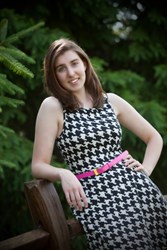 The Last Time is an engaging novel.
Chesterfield, Michigan (PRWEB) October 18, 2013
Outskirts Press will be releasing the second novel, The Last Time, in November. This is the second novel by sixteen-year-old author Jacquelyn Eubanks. Her first novel was an Amazon best seller and USA Book News Award Finalist in 2012. Jacquleyn wrote the first draft at age twelve.
The second novel, The Last Time, is the second novel in her The Last Summer Series. Like the first novel, the story takes place in 1955.
It's 1955, and Charlotte "Charley" Mason has just moved to New York, leaving behind her hometown in Georgia, her group of baseball-playing best friends, and her boyfriend, Frankie. Things in her perfect new town aren't all they're cracked up to be, though. Her relationship with her mother has gone from bad to worse, her grandpa's leukemia is slowly killing him before her very eyes, and the athletic tomboy has to begin her sophomore year at the preppy, snobby all-girls school, Our Lady Queen of Angels.
When a confrontation with the most popular girl in school, Angelica Whitman, goes horribly wrong, her chances at social acceptance are completely destroyed. What's a poor tomboy to do? She'll have to make lemonade out of lemons with the help of her new best friend, Victoria, her amazing boyfriend, and her perseverant attitude. She will join the softball team, attend a sock hop, get detention, run for Homecoming Queen, have a sleepover, make friends (and enemies), stay true to herself, and overcome all odds. But even then, it might not be enough. All that she loves may be lost.
The Last Time is an engaging novel about a girl who faces universal high school challenges with grace and courage. Readers can stay updated on the status by visiting http://www.JacquelynEubanks.com.