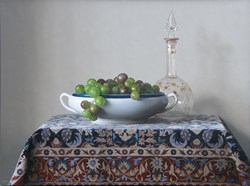 Charlotte, North Carolina (PRWEB) October 16, 2013
Join McColl Fine Art for an evening of art featuring the works of Brazilian artist, Renato Meziat. Enjoy a glass of wine while viewing his latest works as well as the works of the gallery's other Classical Contemporary and 19th/Early 20th Century works of art. A percentage of the sales will go to http://www.melissasvoice.org/ Melissa's Voice Foundation, an organization helping those affected by eating disorders.
When: Friday, Oct. 25 from 6 p.m. to 8:30 p.m.
Where: McColl Fine Art gallery, 126 Cottage Place, Charlotte, NC 28207
What: Meziat is essentially a self-taught painter who works in the tradition of classical realism. Although he has worked in a variety of genres, Meziat is best known for still life paintings that have had great success in international auctions.
Meziat was born in Rio de Janeiro and came to the United States in 1952. He began his art studies in music at the prestigious Berklee College of Music in Boston, MA, but made a transformation from musician to painter. His paintings demonstrate a tremendous technical ability which comes from intense observation of his subjects. Meziat once said of his work, "I don't want to make people think. I want to make paintings so beautiful that when people see them they just can't think of anything else." His paintings, which have only recently been introduced to North America, can be found here: http://www.mccollfineart.com/artists/renato-meziat/.
Guests are invited on Oct. 25 to come and enjoy an evening of fine art and wine. McColl Fine Art, located at 126 Cottage Place in Charlotte, NC, specializes in fine American and European paintings from the 19th and early 20th centuries, as well as classical contemporary works of art. For a complete list of the artists featured in the gallery, visit their website.
McColl Fine Art is one of the premier fine art galleries in the country. Located at 126 Cottage Place in Charlotte, NC, McColl Fine Art specializes in fine American and European paintings with a primary focus on 19th century art and select works from early 20th centuries, as well as Classical Contemporary works of art. They offer works of exceptional quality from periods including the Barbizon School, the Hudson River School, Academic painting, Impressionism and Post-Impressionism. For an experience unlike many other art galleries, please visit their website at http://www.mccollfineart.com for more information.