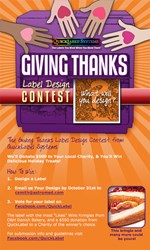 West Warwick, RI (PRWEB) October 18, 2013
QuickLabel systems, an Astro-Med, Inc. (NASDAQ: ALOT) business unit, is announcing the start of its first ever Giving Thanks Label Contest. According to QuickLabel, the Giving Thanks Label Contest is an effort for QuickLabel to give back to their customers and friends, while helping the needy this holiday season.
According to the Company, contest guidelines are simple:

Entrants in the design contest are encouraged to create unique label designs that reflect the meaning of "Giving Thanks."
Entrants will then submit their label artwork to QuickLabel by email by October 31st. The email address for submissions is csmith(at)astromed(dot)com.
The contest winner will be determined by the entry with the most "likes" on Facebook.
All label artwork submissions that QuickLabel receives will be posted to the QuickLabel Facebook page, http://www.facebook.com/quicklabel . People who have "liked" QuickLabel will be able to vote on the entries by liking their favorite. The entry with the most "likes" wins.
QuickLabel is hoping that their customers throughout the US and Canada, will be excited to enter as a way to contribute to worthy organizations in their communities. The winning business will be rewarded with $500 USD to donate to a charity of their choice, along with holiday treats to fill their office.
O&H Danish Bakery, the award-winning producer of authentic kringle pastries – and QuickLabel Kiaro! inkjet label printer owner – in Racine WI, is providing their signature pastries, kringles, for the contest.
Using their Kiaro! label printer, O&H Danish Bakery will print labels with the winning designs on all of the Kringles that it sends to the winner. The required label size for the contest is: 4"X3" (horizontal orientation).
"We are positively thrilled to be able to say thank you to our customers and help them give back to their communities," says Vice President and General Manager of QuickLabel, Eric Pizzuti. "We can't wait to see what designs they come up with, and are even more excited to see them printed on a Kiaro!"
Entrants can email their entries at any time before 5:00 PM Eastern Standard Time on October 31, 2013, to QuickLabel Marketing Communications Specialist, Charles Smith, at CSmith(at)Astromed(dot)com.
About QuickLabel Systems and Astro-Med, Inc.
QuickLabel Systems is a leading manufacturer of digital color label printers used by manufacturers and processors who want to print their own labels in-house, as well as barcode label printers, thermal transfer ribbon, labels, and custom label printing services. QuickLabel Systems is a brand of Astro-Med, Inc., a Rhode Island based manufacturer of high tech specialty printing systems and data acquisition systems for test and measurement. Astro-Med, Inc. (NASDAQ:ALOT) is a member of the Russell Microcap® Index. Additional information is available by visiting http://www.QuickLabel.com. Keep up with QuickLabel Systems on Twitter at http://www.Twitter.com/QuickLabel and on Facebook at http://www.Facebook.com/QuickLabel.