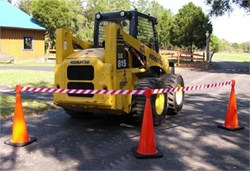 Tampa, FL (PRWEB) October 18, 2013
Equicross' new cone toppers transform ordinary traffic safety cones into a temporary, cost-effective belt barrier system. Simply insert the retractable cone top with barrier belt over a standard traffic cone to create a temporary warning barrier. The highly visible retracting belt securely connects to the next cone topper and can be used in a number of configurations. The cone topper includes a 9 foot belt with a locking belt end and your choice of red and white diagonal stripes or yellow and black stripes. It will fit over most standard traffic cones to provide a quick and effective way to restrict access. This product is ideal for construction sites, work sites, roadside maintenance, engineering applications, and anywhere a temporary barrier or restricted access is required. The cone topper's belt extends 9 feet and features 4-way connectivity. Finally, it is more effective at blocking off an area than traffic cones alone and fewer cones are required, saving both money and space.
For a full range of Stanchions, Barriers, Barricades, Traffic Safety Equipment, Plastic Stanchions, Wall Mount Units and much more, visit us online at http://www.CrowdControlStore.com or call us at 866-715-6006.