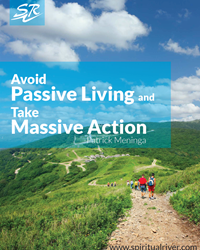 Call toll-free for alcohol and drug treatment: 1 (888) 724-3186.
Delray Beach, FL (PRWEB) October 22, 2013
Spiritual River columnist Patrick Meninga is proud to announce the update on his free online ebook "Avoid Passive Living and Take Massive Action", available for viewing on the web at http://www.spiritualriver.com. This revamped ebook contains full-color graphics and re-formatted, organized content that is easy to read, staying true to its original wording.
Informative and accessible, this ebook is an all-around inspiration not only for addicts but for anyone looking to live a more active and productive lifestyle. In the ebook, Meninga dichotomizes passive recovery with active recovery, stating recovering addicts who do not push themselves to set and follow through with their goals are more likely to turn back to dependency and addiction than their more successful, self-motivating counterparts. Meninga uses his personal experience to effectively show the difference, which may not initially be clear: while getting a job, going back to school, and starting routine exercise are all-around positive aspects of life, the approach to these aspects can either be passive (suggestions from others) or active (self-motivation).
In its updated version, the ebook asks various questions and urges individuals, whether they are recovering addicts or not, to look introspectively and assess how they are living: do they work to better themselves and push themselves to achieve their own success or do they make changes based on what others believe is good for them?
Meninga encourages the former, and living actively can make all the difference, especially for former addicts who are at risk of relapsing back into their old habits. He states that the biggest problem of addiction is that it becomes habitual and using drugs or alcohol becomes a part of routine. Once people spiral back into alcohol and drugs, they find it more difficult to motivate themselves to stay clean.
Meninga's ebook explains that recovering addicts who go on to live passive lifestyles are prone to dependency and isolation, and thus are more prone to start using than people who use "massive action" to "create" things and constantly seek ways to improve their situations and find positive learning experiences with every task. He defines "massive action" pushing themselves to their maximum capacity to really put in effort to achieve goals. "If it's not hard work, then you are not doing it right," he states.
Spiritual River is a website devoted to drug and alcohol addiction based in Florida. Through a mix of informative and opinion articles from former addicts and/or addiction experts, Spiritual River maintains the ultimate goal of helping struggling and recovering addicts as well as loved ones through the process of addiction and treatment.
To view the update on Patrick Meninga's free online ebook "Avoid Passive Living and Take Massive Action", please visit http://www.spiritualriver.com/free-ebook-avoid-passive-living-take-massive-action/.