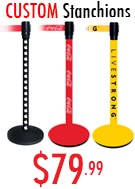 Tampa, FL (PRWEB) October 21, 2013
CrowdControlStore.com is now offering a number of special benefits to Florida residents. Our manufactured products, including retractable belt stanchions, plastic stanchions, barricades, plastic chain, traffic cones and other crowd control equipment are stored in a warehouse just outside of Tampa. For the first time ever, Crowd Control Store will make deliveries to Florida residents for a minimum quantity. In some cases, our customers have paid just as much for shipping as the products they purchase, which is why our company offers this special option for local business and customers. If an order does not meet the minimum quantity requirement, we can still ship to virtually all Florida locations within one business day.
The most cost-effective option for customers who live close to Tampa is warehouse pickup, where the customer picks up their purchase at our facility and shipping charges will be avoided altogether. Furthermore, local residents who need replacement parts can easily come to our warehouse to pick them up. Whether you are looking for barricades, metal stanchions, plastic stanchions, plastic chain, traffic cones or any other traffic safety or crowd control product, Crowd Control Store is your one-stop-shop.
For a full range of Stanchions, Barriers, Barricades, Traffic Safety Equipment, Plastic Stanchions, Wall Mount Units and much more, visit us online at http://www.CrowdControlStore.com or call us at 866-715-6006.