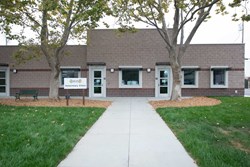 (PRWEB) October 16, 2013
Who: The East Bay SPCA (http://www.eastbayspca.org), a 501(c) 3 nonprofit organization committed to the welfare of cats and dogs in Alameda and Contra Costa Counties.
What: The East Bay SPCA (EBSPCA) will hold a Ribbon-Cutting Ceremony to celebrate the Grand Opening of the Theodore B. Travers Family Veterinary Clinic. The ceremony will take place Thursday, October 17 at 10:00 a.m. at East Bay SPCA's Oakland Campus, 8323 Baldwin Street in Oakland.
The EBSPCA is one of the few nonprofit animal welfare organizations offering veterinary services to the public. Thousands of pet owners have come to rely on the EBSPCA as their "go-to" veterinary clinic that offers high quality, affordable vet care.
The Theodore B. Travers Family Veterinary Clinic is named in honor of Teddy Bear Travers, a Bichon Frise mix adopted from the EBSPCA. Teddy Bear and his family will be at the ceremony to officially help open the clinic. Teddy Bear was a stray that came to EBSPCA after a good Samaritan found him and brought him to the shelter. Teddy Bear had a deep wound in his neck and EBSPCA veterinarians performed surgery on Teddy and saved his life.
Where: East Bay SPCA: 8323 Baldwin Street, Oakland, CA 94621
When: Thursday, Oct. 17, 2013 from 10:00 am – 12:00 pm. The program begins at 10 am and will be followed by tours and refreshments at 10:45 am.
Main Speaker: East Bay SPCA President and CEO Allison Lindquist. Representatives from the City of Oakland will also speak.
Why: Last year, East Bay SPCA's old veterinary clinic served more than 20,000 animals a in an outdated building constructed in the 1950's. For the past five years, the EBSPCA has seen a steady increase in the number of animals coming through its clinic doors. The community need is great and the EBSPCA clinic was bursting at the seams. The new Theodore B. Travers Family Veterinary Clinic will be able to significantly increase not only the number of patients served, but the number of life-saving procedures we can perform.
More: The new 5,000 square foot Theodore B. Travers Family Veterinary Clinic offers high quality, affordable pet exams and health care for publicly owned dogs and cats. The full-service clinic also performs dental cleanings, surgeries, and offers a convenient drop-in vaccine and microchip clinic. In 2012, the EBSPCA Veterinary Clinic examined 8,147 dogs and cats, vaccinated more than 20,400 animals and performed 1,745 surgeries.
The new $3 million stand-alone veterinary clinic is part of a $9 million renovation that the East Bay SPCA is undertaking that will double the shelter's animal holding space to allow for more adoptions, and provide two additional classrooms for education programs, dog training classes, and community meeting space.
W. L. Butler Construction has been hired as the general contractor to build the project. The architectural firm is Swatt Miers Architects. More information about the East Bay SPCA can be found at: http://www.eastbayspca.org.
Contact:
Laura Fulda, VP of Marketing & Development
Office: 510.563.4611 Cell: 510.368.5652
lfulda(at)eastbayspca(dot)org