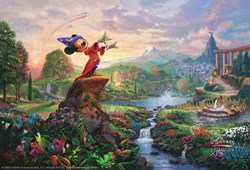 We look forward to an exciting future full of beautiful artistic masterpieces in new and unexplored Disney Collections. - John Hasting, Chief Executive Officer
Morgan Hill, CA (PRWEB) October 17, 2013
Today at their corporate studios, The Thomas Kinkade Company announced immediate availability of the limited edition art image of Fantasia - the twelfth title in the Disney Dreams Collection. Fantasia is a historic partnership between Thomas Kinkade Studios and Disney. It's a celebration of the film's tradition of exploring beauty through joyous artistic expression. John Hasting, Chief Executive Officer says, "To finish up this momentous collaboration between The Thomas Kinkade Company and Disney with a masterpiece featuring Mickey - the mouse that started it all - is a fitting finale to an epic artistic collection. This has been a tremendous creative journey with Disney and while this is the twelfth and final title in the Disney Dreams Collection, we look forward to an exciting future full of beautiful artistic masterpieces in new and unexplored Disney Collections."
This is the first and only image created with Mickey Mouse. In this image of Fantasia as interpreted by The Thomas Kinkade Studios, Mickey stands in the center of it all- orchestrating a sublime dance going on about him.
The collection, began by famed American Artist Thomas Kinkade, was introduced in 2008 with Snow White as the initial subject matter. The first title in the Disney Dreams Collection, Snow White Discovers the Cottage, quickly sold out from the publisher in the giclee media and is currently being released in the serigraph format. Follow up titles in this collection included such popular characters as Cinderella, Sleeping Beauty, Pinocchio, Tinker Bell, Bambi, Beauty and the Beast, the Lion King, the Little Mermaid, along with characters from the Jungle Book and Lady and The Tramp.
Fantasia is available in five sizes in limited release through authorized Thomas Kinkade Galleries.
Thomas Kinkade, the Painter of Light™, emphasized simple pleasures and inspirational messages through his art and the branded products created from that art. From textiles, to collectibles, to music and books, The Thomas Kinkade Company strives to inspire and uplift people of all faiths and to bring peace and joy into their lives through the images Thom created. For additional information on Thomas Kinkade or to open your own Thomas Kinkade Gallery, visit http://www.thomaskinkade.com.
###
The Thomas Kinkade Company, Morgan Hill, CA
For more information:
Patti Ungaro
408-201-5000
PRInfo(at)kinkade(dot)com
ThomasKinkade.com