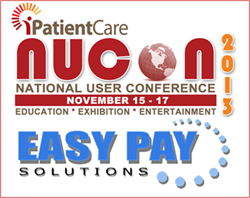 Get paid even before a statement is mailed to the patient! The thousands of doctors using Easy Pay have proven that Easy Pay can reduce patient receivables by at least 50%. - David Berlad, VP, Easy Pay Solutions
Woodbridge, NJ (PRWEB) October 17, 2013
iPatientCare, Inc., a pioneer in mHealth and cloud-based ambulatory EHR and integrated Practice Management solutions announced Easy Pay Solutions as one of the Exhibitor/Sponsor for its National User Conference (NUCON 2013).
iPatientCare and Easy Pay continue to work together to solve patient receivables with a fully integrated credit card processing solution. Easy Pay automates payment plans for the patients and relieves busy practices from having to remember to send them to the bank. Easy Pay's cutting edge technologies embedded in the iPatientCare software make iPatientCare a superior integrated application platform in today's medical software market. Easy Pay officials would be attending the full conference and also exhibiting its integrated solution at the upcoming User Conference.
"Easy Pay is excited to be featured as an exhibitor/sponsor at NUCON 2013, and is confident that offices using the Easy Pay capabilities in the iPatientCare software will benefit from the expedited patient payments, reduced bad debts, and lower collection expenses," said Dave Crooks, President of Easy Pay Solutions.
David Berlad, VP, Easy Pay Solutions, commented, "Office staff can process not only co-payments, but also set up payment plans, and enjoy automatic posting to the patient's ledger. Perhaps the greatest advantage of Easy Pay to the medical office is the ability to capture patient credit and debit card signatures-on-file at the time of service, so that after-the insurance company adjudicates the patient's insurance claim and the patient's balance is determined (shown on the patient's EOB), patient balances can be automatically collected. In other words, they get paid even before a statement is mailed to the patient. The thousands of doctors using Easy Pay have proven that Easy Pay can reduce patient receivables by at least 50%."
About iPatientCare
iPatientCare, Inc. is a privately held medical informatics company based at Woodbridge, New Jersey. The company is known for its pioneering contribution to mHealth and Cloud based unified product suite that include Electronic Health/Medical Record and integrated Practice Management/Billing System, Patient Portal/PHR, Health Information Exchange (HIE), and mobile point-of-care solutions that serve the ambulatory, acute/sub acute, emergency and home health market segments.
iPatientCare 10.8 is compliant with the ONC 2011 Edition criteria and was certified as a complete EHR in accordance with the eligible provider certification criteria. Full certification details can be found at https://www.cchit.org/show-onc-cert?certid=a055000000D3BH1AAN. iPatientCare 10.8 is also certified in CCHIT's separate and independently developed certification program and is a CCHIT Certified® 2011 Ambulatory EHR additionally certified for Child Health.
The company has won numerous awards for its EHR technology and is recognized as an innovator in the field, being a pioneer to offer an EHR technology on a handheld device, an innovative First Responder technology to the US Army for its Theatre Medical Information System, the first to offer a Cloud based EHR product. iPatientCare is recognized as one of the best EHR and Integrated PM System for small and medium sized physicians' offices; has been awarded most number of industry Awards; and has been recognized as a preferred/MU partner by numerous Regional Extension Centers (REC), hospitals/health systems, and academies.
Visit http://www.iPatientCare.com for more information.
About Easy Pay Solutions:
Easy Pay is an advanced credit/debit card web service designed to process Visa, MasterCard, Discover, American Express, JCB, Diners Club, and Health Savings Account/ Flexible Spending Account cards for merchants located in the US. In addition to replacing the functionality of the doctors' current credit card terminal, the Easy Pay software can store credit card information for later processing (paying the patient's portion after EOBs have been received from the payors)…as well as process patient payment plans. Easy Pay is the only way to get paid BEFORE you send the patient statement! Easy Pay is a PCI-approved Level 1 Service Provider (the highest security standard in credit card processing).
Visit http://www.patienteasypay.com for more information.