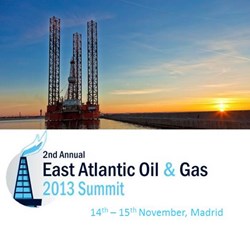 It's an IRN Summit!
(PRWEB UK) 17 October 2013
The 2nd Annual East Atlantic Oil and Gas 2013 Summit, organised by global summit organiser IRN, will take place on 14th – 15th November in Madrid and will gather the international oil and gas companies such as Cairn Energy, Bnk España, Repsol, Enagas and many more to discuss the importance and size of the hydrocarbon potential.
Antonio Martín, General Director of Cairn Energy, Spain, will speak about Caim's exploration targets in the East Atlantic & Mediterranean region; Juan Carlos Muñoz-Conde, Corporate General Manager at Bnk España, will give detailed information about the shale gas industry development in Spain and its role in the Spanish energy model. In addition to that he will explain how shale gas can be an economy booster for Spain.
Max Torres, Exploration Director at Repsol, Spain will exclusively speak and analyse Repsol's E&P activities in Spain, Morocco, Portugal and Mauritania.
An exclusive presentation describing Spain's gas supply infrastructure and prospects for improving Spanish gas system will be given by Francisco De La Flor, Regulations Director, Enagas, Spain. He will also give an in depth analysis of the operational status and capacity of Spain's on stream regasification terminals.
This Summit remains the only event focusing on oil and gas prospects and opportunities in the East Atlantic region this year, including Spain, Portugal, Morocco, Mauritania and France. To date, this region remains underexplored, but is recognised as very important and full of potential. Each of the participating countries holds significant resources, which means there is plenty of room for investment and new developments.
Find more information about the 2nd East Atlantic Oil & Gas 2013 Summit online at http://www.eastatlanticsummit.com.