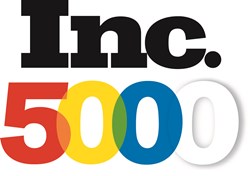 The Inc. 500|5000 serves as a reminder that we must continue to innovate in the social CRM space. And we can think of nowhere better to do just that than D.C. and from our new home.
Washington, D.C. (PRWEB) October 22, 2013
Higher Logic, the leading industry provider of private social networking software for associations, franchises and user's groups, has been ranked #18 among the Top 100 Washington, D.C. Companies in Inc.'s seventh annual Inc. 500|5000, an exclusive ranking of the nation's fastest-growing private companies. Higher Logic's overall ranking was 1,653.
Higher Logic's 2009 revenue was reported at $1.8 million; in 2012, that number had reached $6.0 million, representing an impressive 236 percent three-year growth rate. Last year, Higher Logic made its debut to the list after significant year-over-year growth and success.
In addition to the company's impressive growth in revenues, Higher Logic's employee base has doubled over the last consecutive three years – 2011, 2012 and 2013. As a result, the company recently signed a new headquarters lease at The Air Force Association building 1501 Lee Highway, Suite 303 in Arlington, Va.
Amenities in Higher Logic's new headquarters include a treadmill desk that allows employees to work while walking and reinforces the company's wellness program which encourages fit and healthy lifestyles; the Higher Logic energy buffet, which features an array of healthy snacks options available to all employees free of charge; and artwork created by employees during a paint party held Wednesday, September 4 in the new space for family and friends.
"We are incredibly proud to have been named as one of the top 100 Washington, D.C. companies in Inc.'s latest rankings," said Rob Wenger, Chief Executive Officer, Higher Logic. "This honor – along with the growth of the number of employees – is proof positive that Higher Logic is doing something right. From servicing our clients to fulfilling a real need in today's business environment and to hiring great people, the Inc. 500|5000 serves as a reminder – as well as motivation – that we must continue to innovate in the social CRM space. And we can think of nowhere better to do just that than D.C. and from our new home."
ABOUT HIGHER LOGIC
Higher Logic provides innovative professional social media and mobile applications for organizations worldwide that are seeking to create conversation, share knowledge and build community. Our premier offering, Connected Community™, which is currently used by more than 100,000 online communities with over 15 million engaged users, empowers organizations to share best practices and collaborate—anytime, anywhere. Learn more and follow @HigherLogic on Twitter.
ABOUT THE 2013 INC. 500|5000
The 2013 Inc. 500|5000 is ranked according to percentage revenue growth when comparing 2009 to 2012. To qualify, companies must have been founded and generating revenue by March 31, 2009. They had to be U.S.-based, privately held, for profit, and independent—not subsidiaries or divisions of other companies—as of December 31, 2012. (Since then, a number of companies on the list have gone public or been acquired.) The minimum revenue required for 2009 is $100,000; the minimum for 2012 is $2 million. As always, Inc. reserves the right to decline applicants for subjective reasons. Companies on the Inc. 500 were featured in Inc.'s September issue. They represent the top tier of the Inc. 5000, which can be found at http://www.inc.com/500.