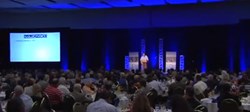 [We're] bringing Hollywood back to the Inland Empire . . .
Palm Springs, CA (PRWEB) October 17, 2013
Economic recovery is apparent in Riverside County, according to data presented at the annual "State of the County" event held recently in Palm Springs. New industry, help for existing businesses, more jobs, infrastructure to support it all, and a renewed effort to attract Hollywood film crews are in the works in California's second-largest county.
"We had the worst recession since the Depression, but the good news is that we're coming out of it. I think the state of the county is good," said Hasan Ikhrata, Southern California Association of Governments executive director. "We have every element to have a successful economy. We have affordable housing, a good transportation system, great universities, cheap labor. I believe the future is bright."
"We're emerging from this horrible economic recession that we've been plagued with for the past five or six years," said District 3 Sup. Jeff Stone. "We're seeing our sales tax numbers up, and our assessed values are up, which is a good thing for the county – a lot of our revenue comes from property taxes. The indicators are that Riverside County is going to emerge from this recession stronger than we've ever been."
Growth is expected throughout the 7,200-square-mile county, with prime real estate readily available. New parks, libraries, and civic centers have recently been constructed.
"We anticipate going from 2.4 [million] to 4 million people over the next 20 to 25 years, so you're going to see a lot of activity," said District 4 Sup. John Benoit. "We have some of the best land values [and a] readily available work force."
New corporate and university jobs, expansions at two major outlet malls and jobs created by public safety infrastructure projects will contribute tens of millions of dollars in payroll to the region over the next few years. In the Temecula area, the thriving winery business is expected grow from 35 to 120 wineries over the next two decades.
Public safety-related capital improvements will add 300 construction jobs to the workforce and infuse $30 million in payroll into the Indio area. "We're investing $350 million in next 36 months in buildings and infrastructure in Indio," Benoit reported.
"We are seeing a lot of new home building. We're also seeing a lot of logistic centers, warehouses and light industrial," said District 1 Sup. Kevin Jeffries.
Making the region more appealing to the Hollywood film industry is one of the main economic development goals of the county, according to Lisa Brandel, Riverside County Economic Development Agency managing director. Recent revisions to ordinances have streamline the permitting process for film crews.
"[We're] bringing Hollywood back to the Inland Empire," said Brandel, explaining that her office is working to "generate contacts, work with cities, and catalogue sites to bring filming back to Riverside County. In the city of Toronto, for example, it's a $1 billion impact on their economy, and we want to tap into that. Riverside County is less than 50 miles away from Hollywood, and we want to let Hollywood know the door is open."
Improvements in transportation infrastructure are on tap as well, including freeway and light rail expansions.
"The Perris Valley line extension of metro link [from Riverside] into north Perris will take 4,350 people off the highways," reported District 5 Sup. Marion Ashley.
Another important piece of the economic puzzle will be the expansion of curriculum offered at the University of California's Riverside campus to offer medical degrees. This will bring additional students to the region, as well as new doctors.
"There are absolutely wonderful opportunities for businesses small and large," said Paul Grenillo, Inland Empire Economic Partnership president and CEO. "[There are] great opportunities for businesses to locate here, for people to come and live in what is a really wonderful place, so close to the ocean, to the mountains, to the desert."