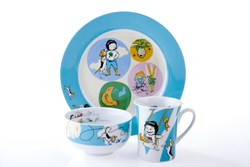 "On a typical Halloween, an average child consumes the equivalent of 4,800 calories, 1.5 cups of fat and 3 cups of sugar."
Boulder, CO (PRWEB) October 18, 2013
Halloween is almost here and represents the springboard from Fall into the holiday season of too much food and drink. Do you know that on a typical Halloween, an average child consumes the equivalent of 4,800 calories, 1.5 cups of fat and 3 cups of sugar? A Tucker Patch report on October 13, 2013 shares the details, saying Children's Healthcare of Atlanta totaled up the statistics. That's why it's time to consider incorporating some simple strategies now to help keep your family out of this shocking statistic and away from childhood obesity and adult obesity.
Kidliga and Livliga, portion control dishware, are the creations of Sheila Kemper Dietrich, a mother of three. They're tools that have been approved by a physician and certified nutritionist that parents and children alike can use in the next 60 days and beyond, as part of a healthy lifestyle, to control weight and seasonal tendencies toward overeating. And it's needed. The Centers for Disease Control latest website statistics show childhood obesity has more than doubled in children and tripled in adolescents in the past 30 years. And the CDC website also shows that a third of Americans (37.5%) are classified as obese.
With that in mind, here are the top tips from the Kidliga and Livliga teams on how families can avoid overindulging from Halloween through New Year's Day:

Halloween Freezers and Deadlines: Parents give kids a deadline for enjoying candy and then toss out what's left over or freeze it for later.
Eat Before You Trick or Treat: Eat dinner as a family before heading out for "Trick or Treat" and then, don't use the car. Walk the route! It is a terrific bonding activity for families and you'd be surprised how many calories you can burn on a crisp, autumn night.
Emphasize portion sizes: The USDA recommends 1 cup of fruit or vegetables as a serving size, ¾ or ½ cup for starches or grains, 2-6 ounces of protein and ⅛ of a cup, which is also 2 tablespoons, of a condiment, dip, jam or salad dressing. Sticking to these sizes (even on Halloween or Thanksgiving) assures you won't overeat and can avoid the temptation to load up on the candy or the turkey, trimmings, gravy and mashed potatoes. And it may even help you with weight loss.
Make everyday meals yummy yet balanced: To feel full and satisfied longer and to avoid overeating, make sure each meal is nutritional and balanced with a fruit or vegetable, protein and starch. Too much of just one category will leave you hungry.
Pour it right with holiday cocktails for the parents: A study shared on the Iowa State University website on September 27, 2013 2013 Iowa State Study shows wine glass size, placement and wine color can influence and promote over pouring. Livliga glassware is right-sized with elegant designs for a four or six ounce pour.
Following these simple tips and using Kidliga and Livliga can help maintain healthy habits through the holiday season and extend your strong course to optimum wellness into 2014 and your healthier future!
ABOUT KIDLIGA:
Kidliga is a right-sized dishware set that offers visual cues to guide kids to serve themselves just-right portions on their plates at every meal. The accompanying children's book, Sammie & Sax in the Land of Quinoa: The Search for a Balanced Meal, is the winner of a 2013 Bronze Moonbeam Award for best health book! It's a fun, engaging, well-designed teaching tool, providing recipes, a teaching guide, and subtle lessons about a balanced meal.
The book tells the story of two curious kids, Sammie and Sax, and their dog Rhubarb as they search for a balanced meal. The dishware features these characters along with specifically sized icons to represent the appropriate amount for each food group as designated by the USDA/MyPlate.gov. In addition to the dishware and the children's book, the Livliga website offers activities and recipes that can be downloaded to engage the whole family in learning about healthy eating in an adventurous and interactive way.
Kidliga is available now at the discounted price of $49.95. Sets may be ordered at livligahome.com
ABOUT LIVLIGA: Livliga was founded in March of 2011. The company was conceived out of the personal need for a solution to our supersized world surrounding eating. Sheila Kemper Dietrich assembled a team of experts with a combined 70 years of experience to create a suite of affordable tableware that will contribute to solving the obesity epidemic. Livliga is available as well online.
To purchase Livliga and Kidliga, visit its online store at LivligaHome.com. "Like" Livliga on Facebook at Facebook.com/LivligaHome, follow on Twitter @LivligaHome and visit our blog at LivligaHome.blogspot.com. Watch our videos on http://www.YouTube.com/LivligaHome