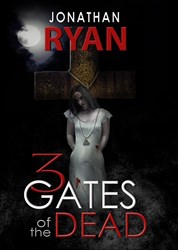 "We are thrilled to bring the first book in a chilling new series to print and ebook. Jonathan Ryan has skillfully crafted a tale of terror in his blending of theology, horror and suspense," commented Hutch Morton, President and Publisher
Los Angeles, CA (PRWEB) October 16, 2013
Premier Digital Publishing is excited to announce the publication of 3 Gates of the Dead in print (ISBN 978-1-62467-099-2, $16.99) and eBook (ISBN 978-1-62467-100-5, $9.99). Noted author, blogger, and columnist Jonathan Ryan loves weird, scary and the strange places of the world. With a vivid narrative that blends the best of paranormal horror, 3 Gates of the Dead deals with the demonic, the struggle for a good man's soul, and a ritualistic killer whose blood thirst awakens an ancient evil. Mr. Ryan will be presenting a seminar at the Eerie Horror Film Festival on October 19th about his writing life as well as his recent foray into Hollywood. The highly acclaimed horror festival features celebrity guests and draws thousands of fans as well as filmmakers and screenwriters to the city of Erie, Pennsylvania.
In addition, Mr. Ryan will also be discussing the filmmaker competition associated with his novel. Industry leaders, Premier Digital Publishing and Gandolfo-Helin Literary Management, have created an unprecedented film adaptation contest. The "3 Gates of the Dead Filmmaker Competition" invites aspiring directors from the United States and Canada to enter. First prize is a trip to Hollywood, a personal meeting with Sam Alexander, Director of Development for The Wolper Organization (Bates Motel, Mists of Avalon), and introductions to leading managers and agents. Applicants must be 18 or older to apply. For more information, please visit http://3gatesofthedead.com.
"3 Gate of the Dead is the book I've always wanted to write. It incorporates other-worldly phenomenon with the struggles that are common to most people," said Jonathan Ryan.
"We are thrilled to bring the first book in a chilling new series to print and ebook. Jonathan Ryan has skillfully crafted a tale of terror in his blending of theology, horror and suspense," commented Hutch Morton, President and Publisher of Premier Digital Publishing.
About 3 Gates of the Dead:
Sometimes, the most evil things come from the most holy…
Conflicted with his faith in God and the hypocrisy of the church, Aidan Schaeffer, a young assistant pastor, is in a constant state of spiritual turmoil. When Aiden learns that his ex-fiancée is the first victim in a string of ritualistic killings, he finds himself in the middle of an even deeper fight. Tormented by demonic threats and haunted by spirits, Aidan throws himself into investigating Amanda's death; all the while supernatural forces have begun to attack the people around him. The more questions he asks, the more he is drawn into the world of a mysterious Anglican priest, a paranormal investigation group and a rogue female detective investigating the murders. As the gruesome rituals escalate, ancient hidden secrets and an evil long buried threaten to rip Aidan's world apart.
Praise for 3 Gates of the Dead:
"3 Gates of the Dead is like a Harry Potter novel for adults."
-Sam Alexander, Dir. of Development, The Wolper Organization at Warner Bros. (Bates Motel, Mists of Avalon, L.A. Confidential)
"Ryan's first novel skillfully blends theology, murder mystery, horror, and paranormal investigation . . . Solid characterization and a grounding in his subject matter make this series opener a real attraction for fans of The Exorcist and the darker fiction of C.S. Lewis and Charles Williams."
-★ 10/15/2013, Library Journal
"I cannot recall the last time I was so enthralled by a book that I was unable to walk away to even do the most normal things - like eat... This is a MUST READ for all horror fans, and anyone seeking out an original and creepy tale... 3 Gates of the Dead will make one hell of a film!"
-Jessica Cameron, Scream Queen (Truth or Dare, Silent Night, The Black Dahlia Haunting, TLC's Brides of Beverly Hills)
"A roller coaster ride of a horror story – the suspense keeps building and you know when you hit the other side you are going to come out screaming. This book falls in with the tradition of The Exorcist and Stephen King's supernatural thrillers. There is a quality to the story that reminds me of Poe's short stories at their best with their unforeseen macabre twists."
-Tracy Riva, Midwest Book Review
"3 Gates of the Dead brought me to that place of intellectual terror that only results in pure joy over a book that so immediately transports one to other realms of the deeply macabre, in a primordial, Lovecraftian scope . . . and sends shivers down our necks."
-Scotty Roberts, Publisher, Intrepid Magazine; former Editor-In-Chief of TAPS ParaMagazine, the official publication of SyFy's Ghost Hunters
For additional information, please visit:
http://www.premierdigitalpublishing.com/product/3-gates-of-the-dead/
About Jonathan Ryan:
Jonathan Ryan has spoken to thousands of people on writing and religion. His writing credits include The Huffington Post, Christianity Today, The High Calling, TAPS ParaMagazine, Intrepid Magazine, the renowned interfaith blog site, Patheos.com and popular horror site, DreadCentral.com. He just completed co-authoring a work of non-fiction with Father Jim Sichko entitled Among Friends: Stories from the Journey (April 2014). Jonathan is currently co-authoring a paranormal-horror novel entitled Mark of the Dragon with award-winning screenwriter/author Serita Stevens and Director/Producer Sean McNamara. Most recently, he has entered the world of producing, being named Associate Producer on the Mark Campbell Productions feature film: Cottonwood, a murder mystery set in the dust bowl era of 1930s Texas starring Louis Gossett Jr., Anthony Michael Hall, Alison Eastwood, Ethan Suplee, and Joe Perry (Aerosmith). Jonathan is also Associate Producer and co-writing the script for the supernatural horror, Annabelle (inspired by a Warren case file - e.g. Warner Bros' The Conjuring).
Website: http://authorjonathanryan.com/
Facebook: https://www.facebook.com/jryanwriter
Twitter: https://twitter.com/authorjryan
Blog: http://authorjonathanryan.com/blog-2/
About Premier Digital Publishing:
Premier Digital Publishing is a leading independent digital publisher and innovator in eBooks, enhanced eBooks and interactive content. Led by a team of digital media pioneers, the company ranks among the top suppliers of quality print and eBook entertainment to the industry's most prominent tablet reader distributors and top-tier retailers.
Website: http://www.premierdigitalpublishing.com/
Twitter: http://twitter.com/pdigitalpub
Facebook: https://www.facebook.com/Premier.Digital.Publishing