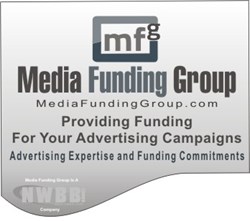 Washougal, WA (PRWEB) October 17, 2013
Media Funding Group, a NWBB Inc. company headquartered in Washougal, WA, announced today the completion of $3.9 million in ad funding in the month of September and an infusion of an additional $4.2 million in Media Funding and Advertising Financing Capacity is being made available for the 4th quarter of 2013.
Media Funding Group who provides advertising expertise and private funding access for Advertising and Marketing campaigns in exchange for Equity based investments, Revenue Share participation or flexible payments on Revolving Credit Lines announced today that they have completed funding commitments in September totaling just under $4 million.

BioSculpture Technology, Inc. with $2 million in advertising campaign funding
Miracet with $100,000.00 in direct response advertising campaign funding.
Bottle Cuddler with $100,000.00 in direct response advertising campaign funding.
Baristas Coffee Company Inc. with $1.7 million in advertising campaign funding.
The $ 4.2 Million in increased funding commitment for 4th quarter 2013 is being made available across all programs offered by Media Funding Group including
Advertising Venture Capital
Advertising Credit Lines
Advertising For Stock, Equity Based Financing
Direct Response Campaign Funding
Funding division V. President, Marc Hatch stated that they were very pleased with their September funding commitments. All recipients have begun utilizing the advertising funding to initiate ad campaigns that are producing positive results . He further stated that they look forward to distributing the remaining 4th quarter funding allotments to those companies that can benefit from the media funding and ad funding solutions they offer.