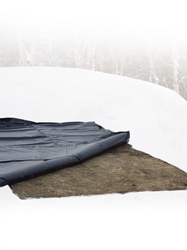 Powerblanket® helps contractors eliminate the cold weather variable and save time and money.
Salt Lake City, UT (PRWEB) October 21, 2013
Winter is fast approaching along the Wasatch front and surrounding region, and while colder weather is great for children and skiers, it can present some unique challenges to the construction industry.
Low temperatures can throw construction projects off schedule. Low temperatures, snow and ice increase costs, damage materials, lower productivity, and even affect the strength of finished structures. These challenges are compounded by the high costs of fuel needed for heating, curing, and thawing equipment.
Lengthy delays and added costs are especially problematic for companies that do excavation work or pour concrete during the winter. Thawing frozen ground before digging and keeping concrete at the ideal temperature is a difficult challenge that often requires renting or buying expensive heating equipment. Setting up this equipment is labor intensive - taking up precious time and resources.
Powerblanket, a Salt Lake City-based manufacturer of ultra-efficient heating, thawing and curing equipment, is focused on solving these challenges and helping construction companies save time and money. Powerblanket® products use GreenHeat Technology®, a revolutionary heat spreading technology designed to provide a highly efficient and uniform distribution of heat while consuming very little energy. Powerblanket's product line includes Multi-Duty concrete curing blankets, Extra-Hot ground thawing blankets, hot boxes, barrel heaters, box heaters and many other standard and custom products.
Powerblanket® products are ideally suited for cold weather concrete curing and to accelerate frozen ground thawing for concrete preparation, footings, excavation and other cold weather applications. They can also be used for preheating service trucks, fuel tanks, heavy equipment, melting snow, ice and frost, and to keep constuction materials warm. Powerblanket's products are easy to set up and take down and don't require any manpower to operate. Powerblanket® helps contractors eliminate the cold weather variable and save time and money.
This winter Powerblanket® will be renting its standard products from its Salt Lake City facility. From October 21st through March 31st, Powerblanket's rental division will be dedicated to making its heating solutions more available to the region by providing construction companies and professionals cold weather construction rental options.
From concrete curing and ground thawing blankets to bucket heaters, Powerblanket® products will be available for weekly, monthly and seasonal rentals. Powerblanket® hopes to reduce the hassle of renting equipment from larger rental houses. The advantages of renting directly from Powerblanket include: competitive pricing, industry knowledgeable staff, a highly efficient rental process and convenient delivery options.
Located at 3130 South 1030 West, Powerblanket Rental welcomes drop-in customers as well as phone and email reservations. For more information, go to http://www.powerblanket.com/rental or call (801) 506-0198.