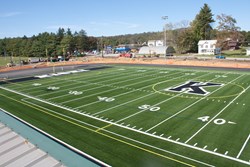 Kiski's Director of Athletics, Christopher Spahn said, "Kiski has always had exceptional athletes and outstanding coaches, now we have an athletic center that is truly first-class. Our student-athletes and coaches are thrilled about the new facilities.
Saltsburg, PA (PRWEB) October 17, 2013
A special ribbon-cutting ceremony will take place on Saturday, October 19, 2013, at halftime of The Kiski School's Varsity football game which begins at 2 pm. In addition, the first class of candidates will be announced into the new Kiski Sports Hall of Fame.
Carroll H. (Beano) Cook, class of 1949 was a notable and popular alumnus at The Kiski School who passed away last October. He graciously remembered Kiski and his fondness for the School through a generous bequest in his estate plan. A plaque will be placed at the Outdoor Athletic Center in his honor that states, "We are proud to dedicate The Kiski School's Outdoor Athletic Center to Beano Cook '49 in memory of his generous and enthusiastic support of Kiski, our athletic programs, and our educational mission. We honor him with this memorial in recognition of the positive influence his legacy has had and will continue to have on generations of Kiski athletes."
The Donald H. Jones Athletic Stadium is named in honor of Donald H. Jones, (1937 to 2012) an entrepreneur, inventor, mentor, and teacher. Jones was a venture capitalist who rose from humble beginnings on a Westmoreland County Farm to found four high-tech companies and hold 15 patents. He spent many happy hours standing at the Kiski field watching Kiski boys compete for their School. He helped lay the foundation for two generations of entrepreneurs who, in turn, have made Pittsburgh a formidable player in the world of innovation and technology. Pittsburgh and Kiski will be forever grateful. In recognition of his love and sponsorship of Kiski, the athletic stadium will be dedicated to the memory of Don H. Jones, beloved husband, father, and grandfather. His son, D. Thompson (Tom) Jones of Allison Park, PA, was an excellent student-athlete. He played Kiski football for four years and graduated in 1979. He along with his mother, Barbara Jones, and sisters, Amy and Autumn, will join us at the ribbon cutting ceremony. Jones was a member of the 1977 and 1978 football teams that will be inducted into the inaugural class of Kiski's new Sports Hall of Fame. Jones says, "This is a very special time for our family and we are looking forward to the weekend's festivities."
The Orr Track and Field is named in honor of four multigenerational Kiski School graduates, the Joseph H. Orr family. Graduates Joseph H. Orr '27, Joseph H. Orr Jr. '48, Joseph H. Orr III '75 and Joseph H. Orr IV '05 have witnessed many decades of growth at Kiski. The Orr's are a legacy family who has supported the educational mission of the School for many years. Christopher Brueningsen, Headmaster of The Kiski School says, "We are sincerely grateful to Beano Cook, the Jones family, and the Orr family, and their generosity and their commitment to advancing Kiski's mission. I'm pleased and proud that we will have an opportunity to honor all of them by associating their names to our new facilities. The excitement about the Outdoor Athletic Center, the Athletic Stadium, and the outdoor track among current and prospective students, parents, faculty and alumni is truly amazing."
The new Carroll "Beano" Cook Outdoor Athletic Center is a state-of-the art complex. Kiski's new turf is comprised of monofilament and parallel slit film, which will give the appearance of a natural grass surface, but will endure the harsh Western Pennsylvania weather. The field will be lined for football, soccer, and lacrosse and will allow all three teams the opportunity to practice and play on safe and consistent field conditions. Kiski's new world-class track is a premier track that will not be found on any private or boarding school campus in the country. The new track is designed by Robbins Sport Surfaces and will be installed by ABACUS Sports Installations. The track that our student-athletes will run on is identical to the track that Usain Bolt trains on at the Jamaican National Stadium. The 400 meter track will have six lanes, with the straightaways measuring 84.39 meters while the curves will measure 115.611 meters. Kiski's Director of Athletics, Christopher Spahn said, "Kiski has always had exceptional athletes and outstanding coaches, now we have an athletic center that is truly first-class. Our student-athletes and coaches are thrilled about the new facilities, and of course, to compete against our rival schools."
On Friday, October 18 at 6 pm at the Pittsburgh Athletic Association, The Kiski School will hold the induction ceremony for the inaugural class of its new Sports Hall of Fame. The first class of inductees include Beano Cook '49, a beloved ESPN Sports Commentator; Robert Mathias '49, a decathlete capturing two Olympic gold medals in 1948 and 1952; Jack W. Fuellhart '62, a cross country, track, and wrestling athlete who held a three year 32-0 wrestling record at Kiski; William Bower '73 is considered by many to be the greatest swimmer and one of the School's greatest swim coaches in the storied history of Kiski's swimming program; and the 1977 and 1978 football teams that are two of the best football teams to represent Kiski on the gridiron.
Kiski has established an Athletic Hall of Fame to honor the 125 years of athletic competition that Kiski boys and coaches have engaged in since the School's beginning. The Hall of Fame was formed to honor those alumni, coaches, and teams who have made significant and outstanding contributions to the athletic programs at Kiski. The nominees must have continued to exemplify the core values that they learned at Kiski: principles of integrity, humility, sportsmanship, tolerance, and service in their personal and professional lives. In order to be eligible, the nominated athlete, coach, or team must be ten years removed from Kiski. Coaches, posthumous nominees, and benefactors will be inducted at the discretion of the Hall of Fame Induction Committee.
The Kiski School is a national leader in educating boys. Founded in 1888, Kiski offers an exceptional boarding or day school experience to families in search of a highly personalized, challenging, and safe high school education for their sons. Located just 30 miles east of Pittsburgh on 350 beautiful acres, Kiski is a special place where boys engage their minds, focusing on schoolwork, sports and just being boys. Our students receive a classic liberal arts education that mirrors the curricula of the nation's best universities, using innovative technology and hands-on learning techniques that nurture boys' curiosity, creativity, and confidence. The results speak for themselves: All Kiski graduates are accepted into four-year colleges or universities, 80 percent of which are Top 100 institutions. Call to schedule a tour of our campus at 877-547-5448. Visit Kiski at http://www.kiski.org. Follow us on Facebook and Twitter.