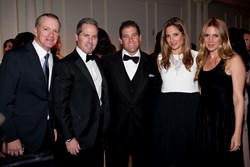 'We are fortunate to have a sensational group of honorees this year, who have each personally made a significant impact in improving the lives of children.'- Les Lieberman, CCBF Chairman.
New York, NY (PRWEB) October 17, 2013
The Children's Cancer & Blood Foundation (CCBF) is honored to present this year's Breakthrough Spirit Awards to Margo and John Catsimatidis of Red Apple Group/Gristedes Foods and Amar'e Stoudemire, six-time NBA All-Star, New York Knicks Power Forward and children's book author, at the annual Breakthrough Ball Gala on Tuesday, October 29, in New York City. Past honorees include Ted Turner and Katie Couric, among others. Each year, guests descend on The Plaza Hotel for this inspirational evening that raises over $1 million for the Division of Pediatric Hematology and Oncology of New York-Presbyterian Hospital/Weill Cornell Medical Center.
Margo and John Catsimatidis are renowned for their philanthropic activities and using their resources to benefit communities in need throughout New York City and around the world. Their activism has raised funds for underprivileged and cancer-stricken children, and fueled the hope of countless others through their community outreach and dedication to a plethora of charitable endeavors.
Amar'e Stoudemire has proven himself to be an all-star on the court and off, using his success and influence to advocate for children in need. The Amar'e and Alexis Stoudemire Foundation (AASF) helps at-risk youth to realize their full potential through education. By providing resources and supporting community-based organizations, AASF empowers underserved youth to achieve their dreams. The Foundation has changed the lives of many children by providing resources for students, high school travel teams, basketball tournaments and projects abroad.
CCBF will bestow the prestigious Medical Breakthrough Award on former Chief of the Division and current Director of the Thalassemia Program, Dr. Patricia Giardina. A world-renowned expert on thalassemia, Dr. Giardina has helped transform the treatment of children with blood disorders, creating a future for children who can now live longer, healthier lives than ever before.
"We are fortunate to have a sensational group of honorees this year, who have each personally made a significant impact in improving the lives of children," said CCBF Chairman Les Lieberman.
Long-time CCBF supporter, actor, commentator and philanthropist in his own right, Charles Grodin will return as emcee. Legendary Saturday Night Live alum Joe Piscopo, will act as auctioneer for the luxurious live auction. Topping off this evening will be a special performance by four stars from the Original Broadway cast of Jersey Boys, The Midtown Men.
For over 60 years, CCBF has been proud to support our extraordinary team of doctors and researchers. CCBF's support has attracted and retained a group of world-renowned experts on the treatment of multiple pediatric blood disorders and cancers, including thalassemia, hemophilia, sickle-cell anemia and leukemia. CCBF researchers have received international recognition for their work and are on the cusp of breakthroughs predicted to change the way the medical community treats children with cancer and blood diseases. Each year, our physicians treat more than 500 children through more than 8,000 inpatient and outpatient visits. Due in large part to funds raised at the Gala, CCBF is able to continue to support the life-saving work of these incredible doctors and researchers.