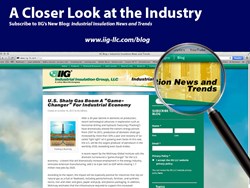 Grand Junction, CO (PRWEB) October 17, 2013
Industrial Insulation Group (IIG), the leading manufacturer of high-temperature insulation for industrial applications, announces the launch of its corporate blog, Industrial Insulation News and Trends. The new blog is an online resource for refining, power and petrochemical industry stakeholders.
Providing timely information and technical guidance for professionals with an interest in insulation solutions, Industrial Insulation News and Trends will publish articles on insulation-related topics and provide links to stories from trade magazines, journals, government reports, industry associations and the financial press. The range of topics will include energy policy, environmental regulation, insulation standards, insulation system design, industrial safety, insulation related problems and solutions such as corrosion under insulation, project updates and related developments in the refining, power and petrochemical industries.
As innovative leaders for the high-temperature insulation industry, IIG intends for the blog to become a centralized resource where customers, contractors, engineers and specifiers can gather up-to-date news and access best practices. The publication will survey both the big picture in the rapidly-developing U.S. energy boom and the small details relevant for anyone concerned with plant safety, process efficiency and reduced emissions.
Visit the Industrial Insulation News and Trends blog at http://www.iig-llc.com/blog. The blog is set to post bi-monthly and subscribers will be notified of the new post.
About Industrial Insulation Group: IIG, a Johns Manville company, manufactures a broad range of industrial insulation solutions designed to reduce heat loss, conserve energy and promote safety.