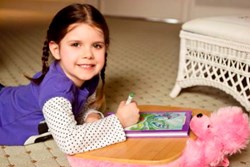 A portion of the sales of Deskeez will be used to support the critically ill children of America's heroes through WishGivers.org.
Burlington, MA (PRWEB) October 17, 2013
OnTrend Products, LLC today announced their official Charitable Partnership with WishGivers. WishGivers is focused on "Helping the Critically Ill Children of America's Military, Police and Firefighters." A portion of the profits from the sale of Deskeez™ will be used to support WishGivers, including giving Deskeez™ to deserving children. Deskeez™ Lapdesk collection is available at select Brookstone and Staples stores across North America and online at Deskeez.com, Amazon.com and Sears & K-Mart.com.
Deskeez™ Lapdesk is designed to fit snug in your lap, making reading, writing and even homework more fun at home and on the go. The lapdesk collection features six plush, lovable characters: Ashley, Bella, Harry, Lucy, Scout and Toby, each with its own personality. All supporting the mission to provide tools that make life and learning more fun for children.
WishGivers was founded retired NYC fireman and 9/11 first-responder, PJ Schrantz, and his wife NY Times bestselling author Tamara Schrantz, following the loss of their seven year old son to leukemia.
"We are thrilled to announce our partnership with WishGivers. We are so impressed with the organization and its founders, PJ and Tamara Schrantz. Their story is an inspiration to all and we are proud to be a part of their team," said Matthew Rubin, co-founder and principal, OnTrend Products, LLC.
Further details on the product assortment, as well as the comprehensive product and partnership information can be found at http://www.deskeez.com.
About OnTrend Products, LLC
OnTrend Products, LLC is a firm specializing in the design, development and distribution of unique consumer products. The firm was founded by four partners combining their extensive experience in product development, sourcing, sales and marketing. OnTrend Products emphasizes "design + performance" throughout its range of products and brands. Product categories include: High performance LED flashlights, Ergonomic travel and relaxation products and an increasing assortment of household accessories and gift items. Products are sold under OnTrend's wholly owned brands including: OnTrend Products, LapDiner™ and Deskeez™. The products are available at select retailers throughout North America including: Big Lots, Brookstone, Cracker Barrel, Office Depot, Staples, Target, The Container Store, The TJX Companies, Sears.com, K-Mart.com, and Walmart. For more information about OnTrend Products visit: http://www.ontrendproducts.com.
About WishGivers
WishGivers helps the critically ill children of America's military, police and firefighters. Founded by retired NYC fireman and 9/11 first-responder, PJ Schrantz, and his wife NY Times bestselling author Tamara Schrantz, WishGivers mission is to help America's heroes in their greatest time of need. WishGivers provides financial help, medical equipment and treatment, practical help and emotional support to America's heroes with critically ill children. WishGivers is supported by everyday American heroes who make a small sacrifice each week to donate $3 to help America's heroes. To learn more about WishGivers and how you can help, please visit http://wishgivers.org.