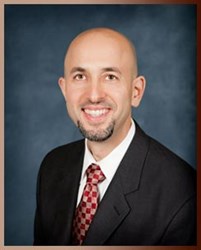 Vince is a leader in using the latest technology to operate his own practice, and we are so happy that he is willing to share his expertise. -- Jason Bishara, president of FA today, Inc.
New York, NY (PRWEB) October 17, 2013
Vincent Esposito, Executive VP at Spruce Hill Capital, LLC has accepted an invitation to be a founding member of the FA today Chairman's Club, a group of accomplished business leaders who will set the direction for FAtoday.com, the digital platform for Independent Financial Advisors (IFAs) only.
The Chairman's Club is an exclusive advisory board that provides active guidance for FA today. Members are some of the site's most active members, posting comments and setting an example for other members on high standards of professionalism and successful practice management. Chairman's Club members also take a lead role in providing feedback to FA today to improve the website and make it more useful to its IFA members.
FAtoday.com, which had its beta release launch last week, offers personalized, professional news feeds and a digital professional environment exclusively for IFAs. Only validated IFAs are eligible for membership. Using a combination of intelligent filtering and behavioral modeling, FA today serves members the content that is most interesting and useful to them from a variety of relevant sources in one place.
The appointment was made this week by Jason Bishara, president of FA today, Inc., after Vincent Esposito accepted his personal invitation. Chairman's Club members are invited to join based on their widely recognized leadership qualities, digital savvy and demonstrated success running an IFA practice.
"We are grateful to Vince for providing his time and effort to make FAtoday.com the go-to, one-stop source of news and information that helps IFAs assist build their practices. Vince is a leader in using the latest technology to operate his own practice, and we are so happy that he is willing to share his expertise," Bishara said.
Vincent Esposito joined forces with Peter J. Nagle in 2010 to form Spruce Hill Capital, LLC. With more than 45 years of collective experience the SHC team helps clients create a comprehensive strategy to navigate their financial lives with confidence. Previously, he worked with Commonwealth Financial Network, the number one independent broker dealer in the industry. He is the founder of AdvisorConnect, the first private online community for advisors, which was bought out by LinkedFA in 2010. He often appears on Good Morning Connecticut as a financial expert.
Esposito said, "I am so pleased to have been invited to help FAtoday.com reach its greatest potential by participating in the Chairman's Club. I want to help bring the information IFAs can access to the level of -- or even beyond -- what the large wire houses provide their advisors."
In addition to serving as a Chairman's Club member, he enjoys supporting his local community and several charitable organizations. He is passionate about the outdoors and is an avid mountain biker. He recently returned from riding some of the best single track trails in the world, in Durango, Colo. He and his wife, Lisa, live in Guilford, Conn. and have two children.
His mission is to inspire clients to make smart financial decisions that will have a positive impact on their family's quality of life for generations.
About Spruce Hill Capital, LLC
Our top priority is our client's well being, now and in the future. For over three decades our firm has been a successful, dynamic business, meeting the challenges of today's changing world by innovating and adapting. By providing clear and steady guidance, we help our clients feel secure even in the most turbulent times. Our success comes directly from the success we bring to our clients. We aim for the best, and we love what we do.
For more information, see our website, SpruceHillCap.com.
About FA today
FA today is an exclusive community only for independent financial advisors (IFAs) whose credentials have been validated, based on broker registration records. Content and resources are tailored to each member's practice to present the most relevant news, articles, blogs and services all in one place. At the same time, by crowdsourcing across its membership, FA today provides the economy of scale needed to compete with the largest firms for access to data and financial products. Customization and validation are seamless because they are based on a lookup of the member CRD broker registration number. IFAs can build their own communities of like-minded advisors regardless of physical location to share best practices and grow professionally.
FA today was founded in April 2013 by a team of senior executives with extensive experience in Wealth Management, Technology, Online Media, and Platform design.
Independent Financial Advisors can register at FAtoday.com.
LinkedIn: linkedin.com/company/fa-today
Twitter: twitter.com/FAtodaynews
Facebook: facebook.com/FAtodayNews