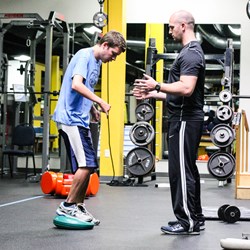 Ten days after starting at Project Walk, I donated my wheelchair. One week later I donated my walker and I ran two weeks after that.
Carlsbad, CA (PRWEB) October 17, 2013
One brisk evening, May 11, 2013, Christian Olpin, a vivacious 24-year-old raced down a familiar street which changed his life forever. What should have been a routine drive home instead resulted in a motorcycle accident that left Olpin with a C6 spinal cord injury. Along with broken ribs, a broken left clavicle and scapula, and torn right labrum, Olpin suffered multiple injuries to his vertebrae. His neurosurgeon said that the fracture at the C6 level was so devastating that the vertebrae actually suffered injuries to both the front and back, something rarely seen and that Olpin was lucky to be alive.
Prior to the accident, Olpin was a healthy, physically adventurous individual who enjoyed outdoor activities that challenged his endurance; even successfully tackling Half Dome in Yosemite National park. Today he spends two days a week at the Project Walk Spinal Cord Injury Recovery Center in Carlsbad, CA retraining his body to do many of the things men his age take for granted.
"Some doctors said I would never walk while others said that at the very least, I would need a cane," said Olpin. "Ten days after starting at Project Walk, I donated my wheelchair. One week later I donated my walker and I ran two weeks after that."
Like his dedication to outdoor activities, Olpin found success in Project Walk's intense activity-based recovery program. Founded on The Dardzinski Method®, Project Walk is the world leader in spinal cord injury recovery, revolutionizing the industry through their out-of-the-wheelchair recovery programs, education, training, research and development.
"Project walk is highly recommended in the spinal cord injury community and I always look forward to the opportunity to work with my Specialists," adds Olpin. After just three months of therapy, Olpin now has the ability to take steps unassisted. "My balance has improved so much I don't worry about falling when walking or running."
Christian's progress also earned him a coveted spot on the red carpet at Project Walk's 9th annual Steps to Recovery. The event highlights the milestones of those told they would never walk again, and celebrates the achievement of leaving their wheelchair behind in front of family and friends. Olpin, who attends Project Walk thanks in part to the financial support of the Be Perfect Foundation and the Move with Your Heart Scholarship fund, views the event as a chance to show those opposed to the idea of a full recovery that anything is possible. This year, the event is held on October 26, 2013 at Project Walk - Carlsbad and showcases as many as 20 people who share a similar story of determination and inspiration.
Like many others affected by a spinal cord injury, Christian hopes to one day return to doing the things he loves most. From shooting a three-point basket to tackling the hiking trails of Glacier National Park, Olpin undertakes each day with the focus and determination of a man learning to walk again.