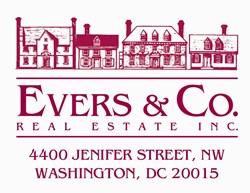 Washington, DC (PRWEB) October 16, 2013
The Washington-DC real estate market continues to show signs of a strong fall season, which is a prime time for buyers who want to stay ahead of housing prices and interest rates that will likely increase in the spring. September 2013 numbers show that prices have risen by 9 percent, compared to 2012 numbers and should continue to increase well into 2014. Dollar volume of sales also increased by 7 percent and the number of days on the market decreased by 31 percent compared to 2012 numbers.*
"Anybody who thinks they should wait until next spring to buy should think about the fact that prices are going to be higher by next June," says Donna Evers, president and broker of Evers & Co. Real Estate. "This is especially significant because the cost of money will be higher as well."
Interest rates could rise as much as 6 percent by June 2014, meaning that buyers who choose to buy now rather than later could be saving themselves a considerable amount of money. According to Evers, it is common for buyers to neglect to look at interest rates when they are buying a home and, instead focus only on prices – a mistake that can be very costly in the long run.
Both interest rates and home prices are particularly important if a buyer is looking to buy up and will have to absorb a larger financial commitment.
"Buyers who are looking to buy up should think hard about making a purchase sooner rather than later," says Evers. "Rising interest rates will also impact the amount buyers can afford to spend on homes."
The September numbers are part of a year-long general upward trend of the housing market, and demand is expected to continue to be robust through the New Year.
*Statistics are taken from the Metropolitan Regional Information System for three areas: Washington, D.C.; Montgomery County in Maryland; and Fairfax County, Arlington, Alexandria and Falls Church in Virginia.
# # #
About Evers & Co.
Founded in 1985 by Donna Evers, Evers & Co. Real Estate, Inc. maintains its success through a strong referral base and agents who enjoy a premier reputation for their expertise and in-depth knowledge of Washington Metro Area homes and neighborhoods. Evers & Co. is home to more than 100 licensed real estate professionals with decades of combined experience, who enjoy access to a first-of-its-kind Agent Resource Center. The agency is the largest woman-owned and-operated residential real estate firm in the area and a member of Unique Homes Affiliate Network, Who's Who in Luxury Real Estate and FIABCI, the largest international real estate organization in the world. In addition, the agency has an alliance with My Home In Paris, a residential real estate firm in Paris, France. For more information about Evers & Co. Real Estate, visit http://www.eversco.com.