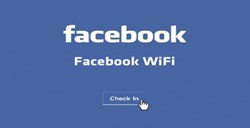 Tanaza turns uninteresting old machines into exciting dream machines.
Milano, Italy (PRWEB) October 18, 2013
Facebook Wi-Fi, Facebook check-in, social media login… however you call it, it's basically the integration between the Wi-Fi infrastructure and Facebook, to deliver to retailers a great marketing tool which allows capturing customer's profiles, increasing engagement, and retention.
There has been great attention, since the rollout of this feature by Cisco, to the Facebook check-in. "Cisco is doing it the right way for enterprise companies, integrating a great cloud infrastructure with high-performing hardware. Anyone with an Enterprise-level budget and Enterprise AP requirement will benefit greatly from this best-of-breed complete solution", says Sebastiano Bertani, CEO of Tanaza. "However, not everyone can afford to buy enterprise-level Wi-Fi Access Points, and many interesting projects never start just because of budget restrictions. We feel that those projects are worthwhile and that SMB customers solution needs can be a big as enterprise customer. We want to provide the tools to make these projects happen, offering a solution at a fraction of the cost."
Tanaza is a software-as-a-service that allows managing multi-vendor Wi-Fi Access Points, spacing from the low-end 15 USD devices to the more expensive 250 USD ones. "We support TP-Link mono-radio 2.4 units, for ultra-low cost environments, as well as Ubiquiti UniFi devices, for more demanding WLAN projects. Yet, all of them are manageable through the same cloud dashboard at cloud.tanaza.com, with the ability to turn on specific per vertical applications," says Joanna Wall, Channel Manager for Tanaza.
For the retail market, Tanaza is releasing a bunch of features to make the Social Media Login functionality, including Facebook Check-in, as well as Google+, LinkedIn, Twitter and Instagram login, available on top of any hardware. A few partners of Tanaza, such as Social WiFi Marketing in North Carolina, WiFiProject in Italy, and others are already using it.
Roy Fang, CEO of Hashly.co (United States), found in Tanaza the perfect partner for his visionary Wi-Fi project: "Tanaza turns uninteresting old machines into exciting dream machines,"… he discovered the level of operational efficiency, cost reduction and freedom given by the Tanaza vendor independent cloud management solution.
About Tanaza (http://www.tanaza.com)
Founded in 2010, Tanaza's mission is to make Wi-Fi management easy and affordable, enabling remote management of any vendor access points in multiple locations through one intuitive interface.
A demo, free trial or quotation is available by contacting your local Tanaza Channel Partner or Tanaza http://www.tanaza.com, sales(at)tanaza(dot)com or +39 02.8718.8553.