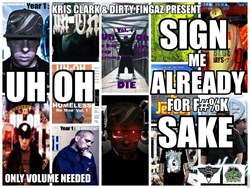 Toronto, CA (PRWEB) October 16, 2013
Coast 2 Coast Mixtapes announce the release of the "Sign Me ALREADY For F#&k Sake" Mixtape by UH OH. The 26 track project is currently available for download. The mixtape features appearances from Loc D.A.B, Danny Florio, Chris Creed, and NLG Boy along with production from Dirty Fingaz.
Uh Oh is a rapper from Toronto, Canada. Uh Oh is a long time Hip Hop fan listening to Big Daddy Kane, Public Enemy, and Chubb Rock at age 8. By age 15 he started DJing and experimenting with production. While working at an appliance store Uh Oh met Kris Clark who shared his passion for music and happened to have a degree in music production and engineering. This was the beginning of a two and a half year journey of dedication, desire, and devotion that has brought the music duo to where they are today. After developing their craft and gaining extensive experience in the music industry Uh Oh is creating music on par with many of his major influences including Bun-B, Jay Electronica, Prodigy from Mobb Deep, Nas, Ghost Face Killer and Nore.
In the past two and a half years Uh Oh has recorded over 500 tracks, released 40 mixtapes of which 5 were featured on Datpiff's Top 8, performed multiple shows, interviewed by local press, and been a part of countless collaborations. Uh Oh lives by the message he presented as the title of his first mixtape, "The Day I Stop Learning, Is The Day I Die." He is currently working on a 16 track Jazz inspired mixtape named "Right Up Your Jazz" as well as booking tour dates for the end of 2013.
"Sign Me ALREADY For F#&k Sake" is a great example of Uh Oh's blend of old school sensibility with new school chops. Unique flows and substance filled wordplay weave and wind a midst organic funky beats to make "Sign Me ALREADY For F#&k Sake" an original must check out mixtape. If you are looking for a mixtape that plays on the golden era of Hip Hop with a modern twist, this is the mixtape for you. Check out Uh Oh on Facebook for more information.
About Coast 2 Coast Mixtapes:
Coast 2 Coast Mixtapes are the most widely distributed mixtapes in the world, with over 100 million downloads/plays generated by over 200 volumes officially hosted by major artists. Coast 2 Coast has a solid reach in the new music industry with a digital magazine, DJ coalition, industry tips blog, yearly convention, and more. Coast 2 Coast Mixtapes represents a unique opportunity for artists of all urban genres, from major to indie. For more information, visit http://www.coast2coastmixtapes.com.