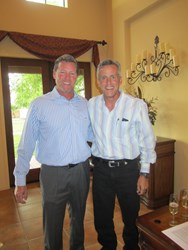 Russ Lyon Sotheby's is dedicated to bringing the highest level of service and technology to today's home buyers and sellers expanding our reputation as the most respected name in real estate.
Tubac, Arizona (PRWEB) October 23, 2013
Gary Brasher, CEO, and Jacque Brasher, designated broker, of Brasher Real Estate are excited to announce the acquisition of the Russ Lyon Sotheby's International Real Estate franchise for much of Southern Arizona. The franchise-protected area will extend from Sahuarita to Nogales and from Arivaca to Sierra Vista. The new company name is Russ Lyon Sotheby's International Realty, The Brasher Team.
"We feel very fortunate to have acquired this franchise," said Gary Brasher. "We needed to take our brokerage to the next level and the timing is perfect for our agents and clients to tap into the huge umbrella of services and marketing tools that come with Russ Lyon Sotheby's." Among other things, Sotheby's is creating a new website for The Brasher Team as well as each of its agents. "We were at a point with technology where we were faced with creating an entire IT department, or connecting with a larger entity that already had these services established."
The timing is also perfect as the local real estate market is rebounding favorably partially due to the significant increase in interest from the management sector of the maquiladoras in Nogales, Sonora. "As business continues to grow in northwest Mexico, more and more management level professionals are looking for permanent homes close to the border," Brasher said. "These people are familiar with Sotheby's where they live now and our new Sotheby's office covers many of the most desirable areas for those looking to re-locate here full time."
Gary and Jacque Brasher have a long history with the principals of Russ Lyon Sotheby's in Scottsdale, Todd Gillenwater and Jim Lyons. They were childhood friends and early business associates, so the groundwork for this acquisition has been ongoing. It is an informal relationship made formal, "a perfect marriage", according to Gillenwater.
Sotheby's is scrupulous in accepting new partners, with a rigorous vetting process designed to insure that only the best people represent the Sotheby's name. This, along with the fact that Sotheby's is so well represented in prestigious markets both nationally and internationally, insures a referral network unsurpassed in the industry, another big plus for Brasher's clients.
Brasher is quick to point out, however, that the players will not change. As each office is independently owned and operated, local sellers and buyers will always have a local office and local agent with whom they can talk face to face. All local transactions will be governed by local decisions. This combination of national/international reach, stellar reputation and local access creates dynamic and effective real estate relationships. "It's a winning combination," added Brasher.
ABOUT BRASHER REAL ESTATE: Gary Brasher started in the real estate business in Tubac in 1984 as a partner in Brasher-Ross Real Estate. Brasher Real Estate became an independent entity in 2000 and currently has 11 agents working out of the flagship office at the entrance to the village of Tubac. MLS memberships include Tucson, Green Valley/Sahuarita and Santa Cruz County.
Gary Brasher currently serves as co-chair of the real estate committee of the Arizona Mexico Commission and is past president of the Governor's Real Estate Advisory Board. Jacque Brasher is past president of the Green Valley Board of Realtors and is currently a director with the Arizona Association of Realtors and with the Tubac Chamber of Commerce.
Russ Lyon Sotheby's International Realty, The Brasher Team is located at One Tubac Road, Tubac, Arizona 85646. For more information, call 520.398.2506 or visit http://www.RussLyon.com.